Tonight is the best time to see Comet Lulin. It is bright enough to see naked eye from dark sites, but probably not from most suburban backyards. However, even a small pair of binoculars should make it visible from most sites. I have a pair of 8x42 binoculars and have picked it up with them.
Comet Lulin is farther from the Sun than the Earth right now...in fact, its almost opposite in the sky from the Sun. It rises shortly after sunset and is visible most of the night until sunrise. The best time to look is around midnight to 1am local time when it is highest in the sky. As an added bonus, Comet Lulin is near Saturn tonight and visible in the same binocular field! That makes it nice and easy to find...find Saturn (which is bright and you don't need a telsescope to see) and you find Comet Lulin. A finding chart is below.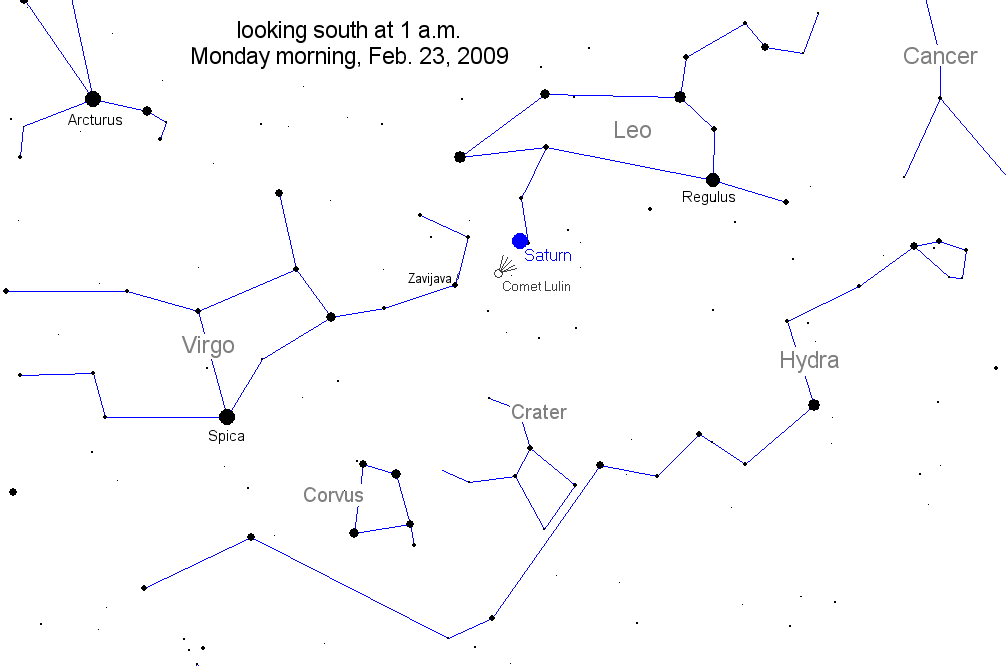 Start by finding the backwards question mark of Leo. You should then be able to pick out the bright Saturn. Center your binoculars on Saturn, scan slowly southeast if needed, and you should run across the comet!
You can see the comet for the next few days pretty well, but by early next week the Moon will be getting brighter and interfering. The comet is moving rapidly across the sky, so look for upated charts at sites such as Spaceweather. Comet Lulin rapidly moves away from Earth and will dim quickly in early March.
Happy hunting!
Reprinted with permission from the Half-Astrophysicist Blog.