From
The Journal Times.com
:
RACINE — Dwight Person, the father of Ty' Rese West, said that the legal proceedings following his son's death are not over.
"I want to see a thorough investigation. I want to see Eric Giese locked up … They did not do a thorough investigation," he told reporters Wednesday evening, after exiting the Racine County Courthouse.
Inside the courthouse, West's family and other community leaders had been told by Racine County District Attorney Patricia Hanson that Giese, the Mount Pleasant police sergeant who shot and killed West on June 15, would not face criminal charges.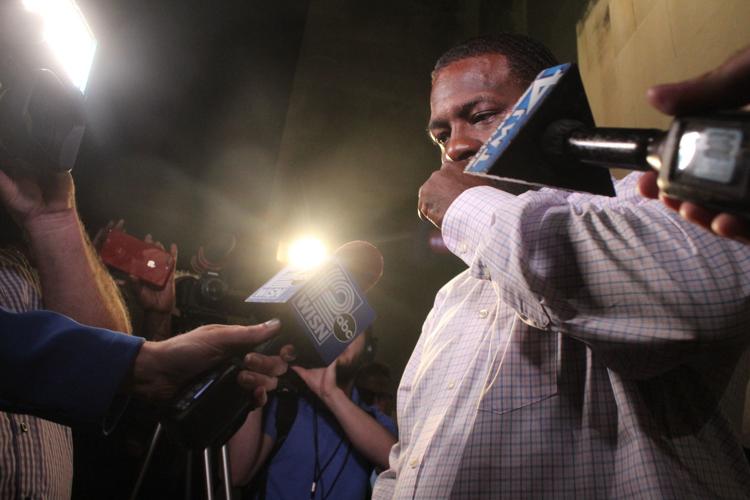 Outside, at least 300 demonstrators waited to hear the decision. Several of them told The Journal Times that they had a feeling Giese would not be charged, even though they had hoped he would have.
Stephon Kirk didn't want the anger to appear to be a condemnation of all law enforcement.
"We know police have got to do what they have got to do. But two shots to the head?" Kirk asked, believing excessive force was used.
Kila Ellis thinks that since Giese may never end up in court, the truth will never fully be known. She, like many others, wants to see video from the incident — even though the District Attorney's Office reported that none exists because Giese didn't turn his body camera on that night.
Ellis wants to know why Giese would try to apprehend West for not having a light on his bike, which she felt was too minor of an offense to even pull someone over for.
Police said that there had been reports of crime in the area committed by people on bicycles, which is why Giese reportedly tried to apprehend West. The incident also occurred at 1:30 a.m.
Ellis also wants to know the justification was for shooting West twice in the head, especially since he wasn't holding a gun at the time.
"Who the (expletive) stops a person without a light on their bike?" Jonathon Johnson, a friend of Ellis', said.
According to Hanson's decision not to charge Giese, the sergeant feared that West was trying to grab a gun that he had dropped after stumbling during a foot pursuit. That was why Giese reportedly said he felt lethal force was necessary.
"This happens too often," Johnson said, referencing the Jan. 17, 2018 shooting of Donte Shannon in which no charges were filed against the two Racine Police officers who shot Shannon. Shannon allegedly pulled a gun on the officers after fleeing from a traffic stop, police said.
"They keep getting away with it," Johnson added.
Johnson, Kirk, and Ellis all said they want there to be an appeal and a new investigation of West's case.
Waleed Ahmad, another Racine resident, said he wants to see change in the community. But for the moment, he remains angry.
He was one of the loudest chanters outside the courthouse Wednesday evening, chanting things like "No justice, no peace" and saying that "Black folks can't get no justice in Racine."
Ahmad carried a large sign with printed-out photo from West's autopsy. The pictured showed two bullet wounds in the 18-year-old's head.
"A lot of stuff has got to happen. For starters, the DA (Hanson) has got to go," Ahmad told The Journal Times. "It's obvious that there is a privilege in the system for white people ... All the processes are written by the white people ... You have got to take care of your own, but when you're in a position like that (referring to law enforcement), you have to distribute justice fairly."
Ahmad added that he thinks the next step should be requiring body cameras to be on at all times for all law enforcement officers in the county.
Michael Burmeister carried a sign that read "Jesus was a victim of police brutality too!" He told The Journal Times: "I really care about my city … I want justice to happen."