From
ZeroHedge
:
Update (23:15 ET): Protesters breached the 3rd Police Precinct where the the officers involved in the death of George Floyd were based. At one point bullets can be heard going off as the cameraman moves through the building.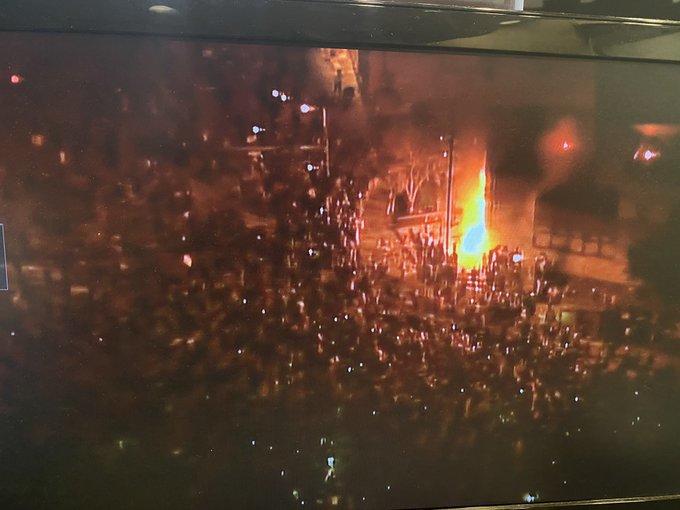 As fire and smoke filled the building, "Fuck The Police" could be seen written on the wall - one day after former
NWA member
Ice Cube added fuel to the fire after he tweeted a false picture of Derek Chauvin - the officer seen kneeling on George Floyd's neck - next to provocateur Jonathan Lee Riches wearing a "Make Whites Great Again" hat.
While the tweet remains despite being quickly debunked earlier in the day, Twitter eventually labeled it "Manipulated media" after it had gone viral.
The police have reportedly been told to stand down, according to Breaking911:
Meanwhile,
shots were fired in Denver, Colorado
during a George Floyd protest, according to the
Washington Post
.
* * *
Update (22:20 ET): Unicorn Riot News says a massive fire is breaking out down the street from the 3rd Police Precinct.
More footage of the fire
* * *
Update (22:10 ET): Unicorn Riot News is live streaming the Minneapolis riots this evening and into the overnight.
* * *
Update (21:05 ET): No signs of the Minnesota National Guard yet -- as large crowds gather around the 3rd Police Precinct on Thursday evening.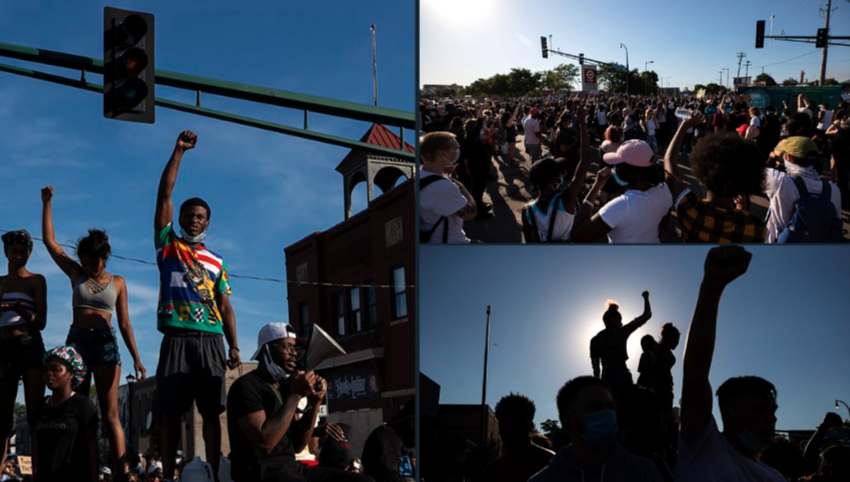 Protests are lighting cars on fire at the Target parking lot near the 3rd Police Precinct.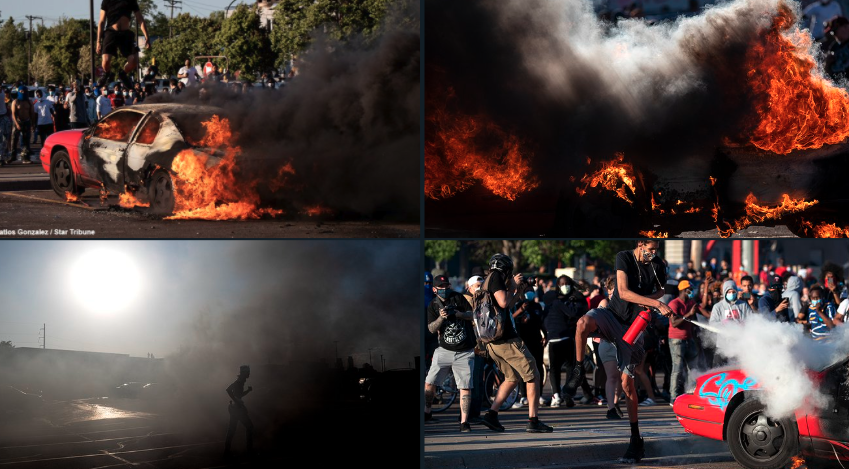 Video of one of the cars on fire.
Meanwhile, large crowds gather in downtown Minneapolis...
"Thousands chanting "all four" at a peaceful protest in downtown Minneapolis," tweeted Twitter handle Zach Boyden-Holmes.
* * *
Update (19:40 ET): And this is what we've been warning about: protests are spreading to other cities. Twitter handle Habiba Choudhury records video of a crowd marching in NYC.
A group of protesters seen at Union Square in NYC.
More from Union Square:
"#BLM protest right now against police brutality and the murder of George Floyd. A bunch of people were arrested, cops are out everywhere along 14th Street and Union Square with the zip ties out," tweeted Twitter handle Michael Busch.
NYC protests are "heating up."
* * *
Update (19:04 ET): Heading into the third night of what is likely going to be continued social unrest in Minneapolis following the death of George Floyd, Governor Tim Walz has signed an executive order to activate the Minnesota National Guard.
Walz said the purpose of the National Guard was "to protect people, to protect people safely demonstrating, and to protect small business owners."
"The anger and grief of this moment is unbearable. People deserve to be seen. People deserve to be heard. People deserve to be safe," he said in a statement. "While many Minnesotans are taking extensive safety precautions while exercising their right to protest, the demonstration last night became incredibly unsafe for all involved."
Walz's office told ABC News that National Guard units would work with local government agencies, providing them with personnel and equipment to mediate social unrest.
Protesters are damaging police cars in broad daylight -- these people don't give a sh*t (and when someone doesn't give a sh*t -- as we saw last night -- that's when things can spiral out of control -- hence why the National Guard has been called up).
"We all want justice but not sure to this is the way to do it... we all have the same blood in our veins," a young black millennial tells Danik.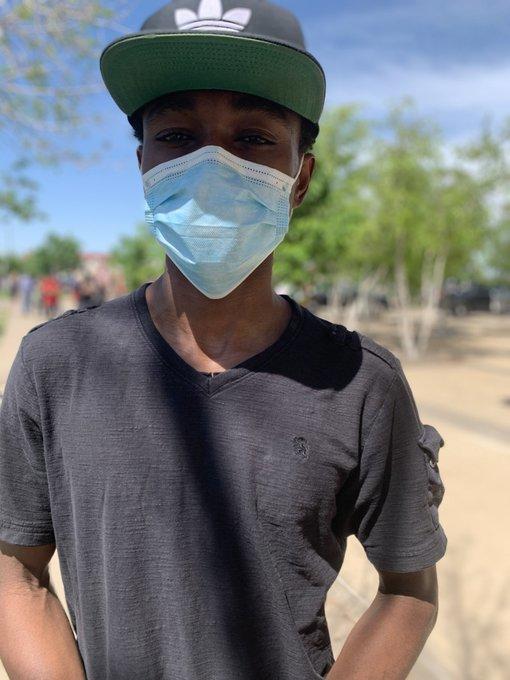 Police shoot tear gas into the crowd.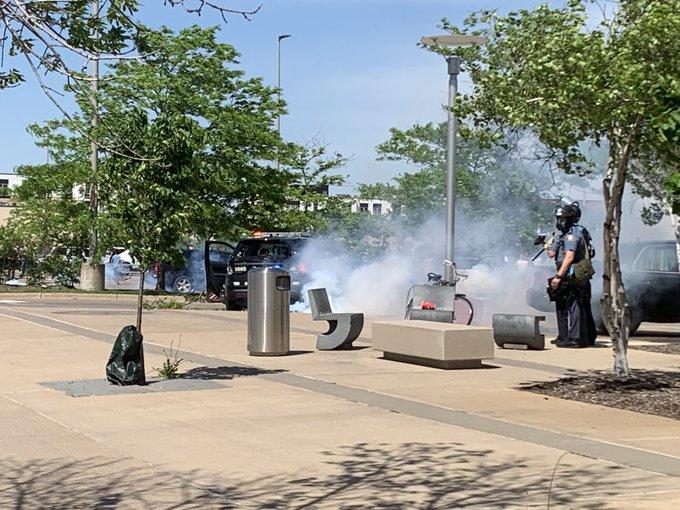 "Fuck the police" can be heard in the video as a squad of riot control cops attempted to disperse a crowd who were staking out "restaurants and stores," said Danik.
Star Tribune reporter Ryan Faircloth tweeted, "Crowd near midway Target in St. Paul is now smashing the windows of nearby Verizon, Noodles and Co. and Vitamin Shoppe."
Faircloth posts another view outside the Vitamin Shoppe, showing police rolling up in a SWAT van to prevent protesters from causing any more damage.
Unicorn Riot News provides more color into the ongoing "stand-off" between protesters and police around the Vitamin Shoppe.
In anticipation of more riots, stores in the downtown Minneapolis boarded-up windows.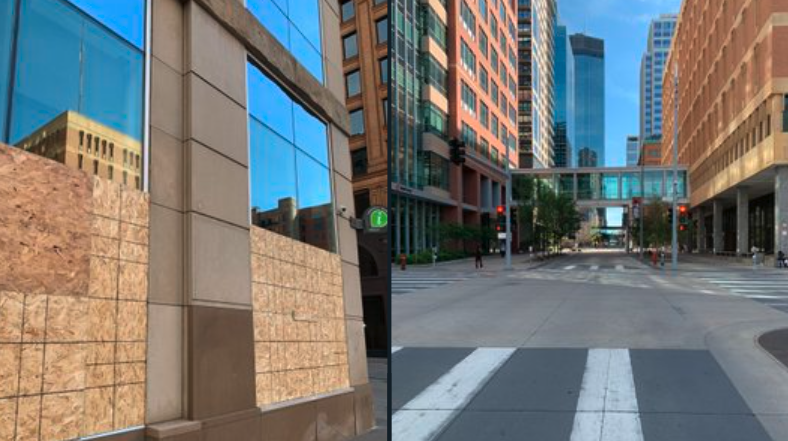 More local shops boarding up windows ahead of tonight.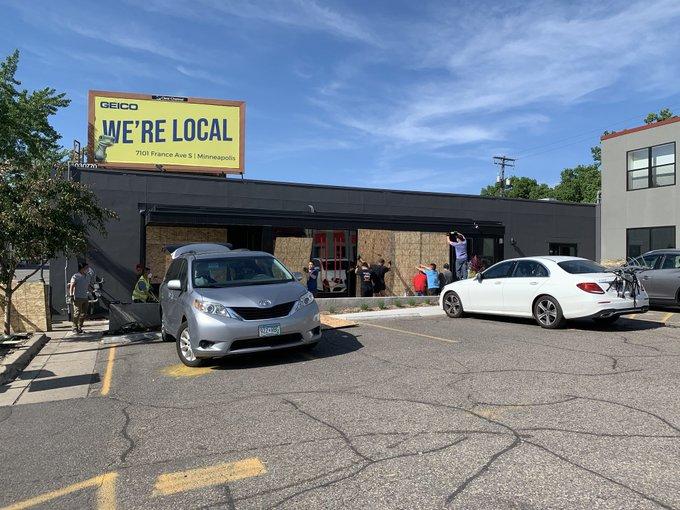 Here are several live feeds of the protests:
MINNEAPOLIS ON FIRE - DAY 3 - GEORGE FLOYD RIOTS
Day 3 | MINNEAPOLIS \ ST PAUL LIVE
* * *
Update (10:21 ET): On Thursday morning, buildings are still on fire, and protesters are clashing with police.
Webster shows the extent of the damage from last night's chaos:
Entire strip mall looted
Cub Foods grocery store destroyed
Aldi supermarket likely destroyed
Fires continue to rage
Protesters burned down a Wendy's fast-food restaurant
Here's the AutoZone that was completely torched
Liquor store looted. Fire damage is seen at the entrance of the building.
Dollar General burns
Smartphone shop looted
Protesters robbed a Wells Fargo bank
Streets around the 3rd Precinct look like a warzone. Absolutely stunning...
Pictures from within Wendy's -- there's nothing left...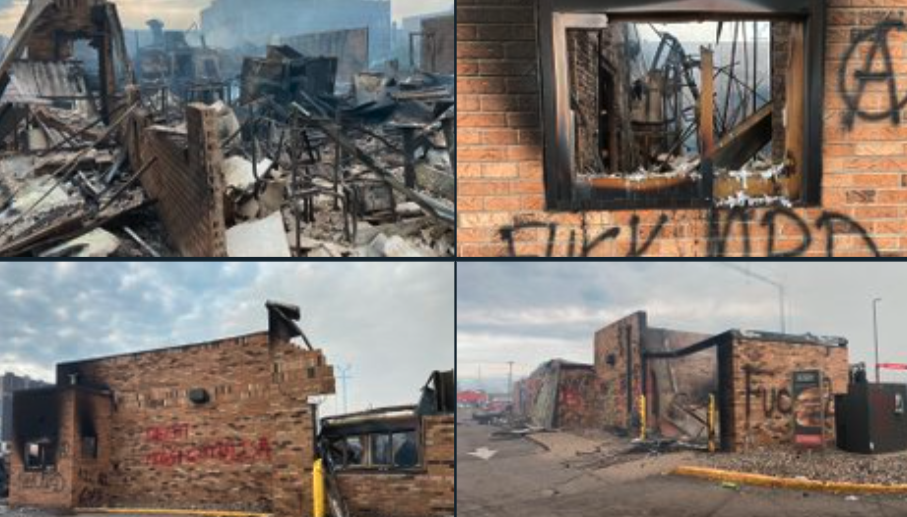 Protesters spray paint a message on a wall: "Merchandise Can Be Replaced Black Lives Can Not."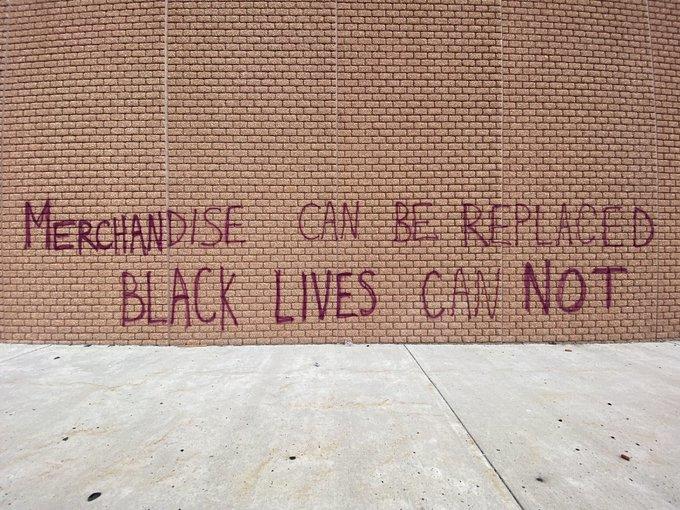 BMW SUV burnt to a crisp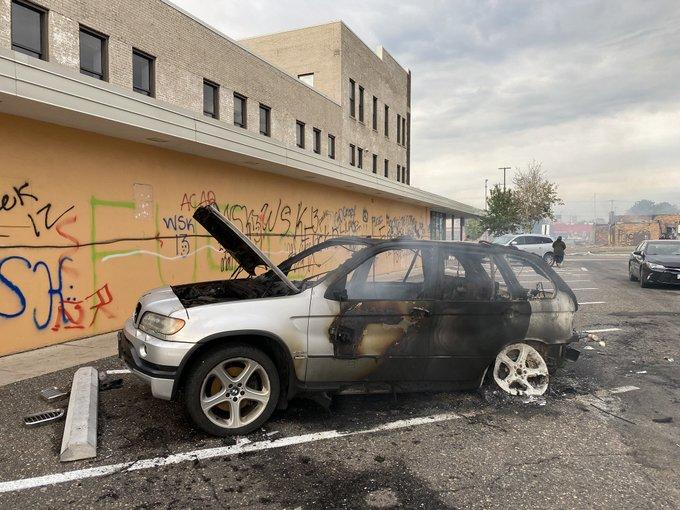 Protesters write "Fuck The Bank" on the wall of U.S. Bancorp. Clearly not happy about their past banking experience.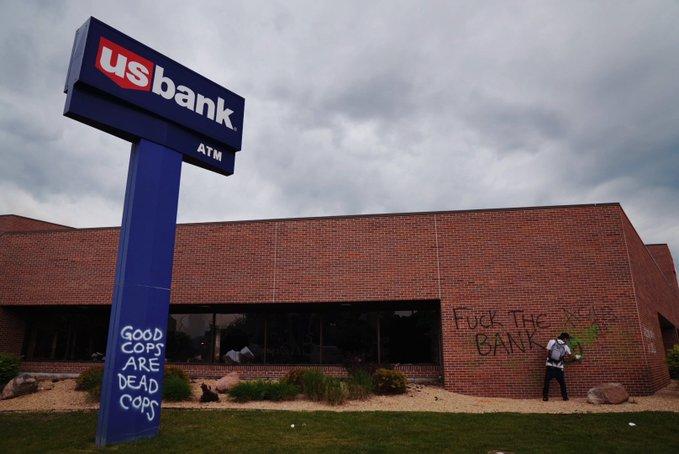 More retail shops burned
Protesters did not torch a "minority-owned" business.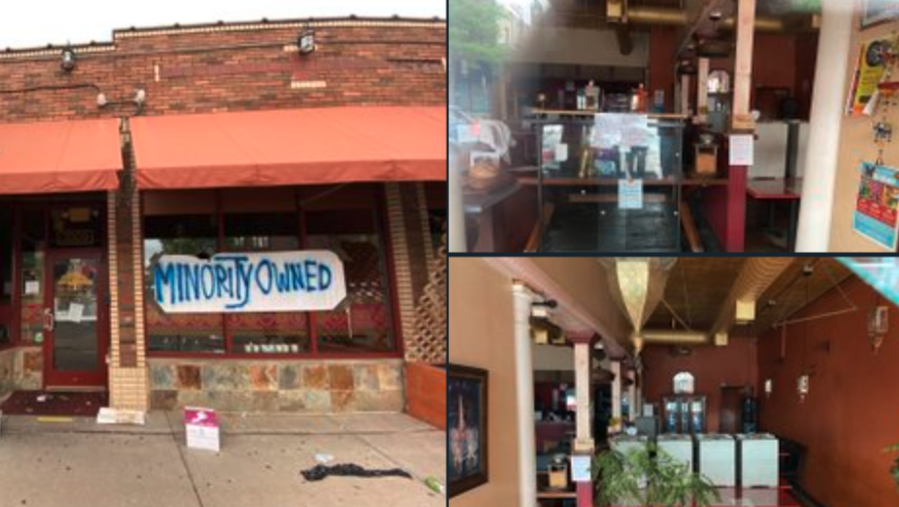 Another liquor store robbed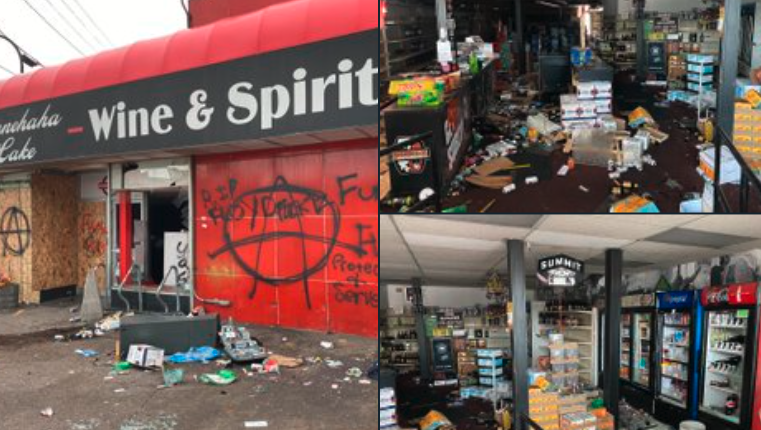 Fires at a construction site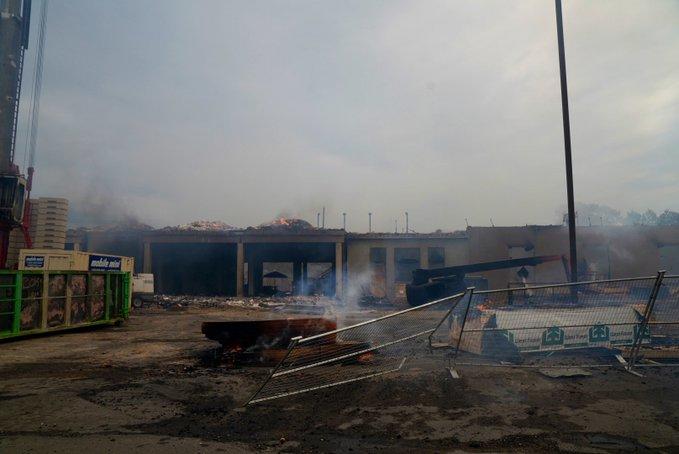 * * *
Minneapolis Mayor Jacob Frey requested Minnesota Governor Tim Walz to deploy the Minnesota National Guard following the social unrest. Demonstrators torched multiple building structures, including an apartment complex and surrounding buildings, an AutoZone, and other retail stores. At least a dozen stores were looted and or damaged.
"That's like five buildings on fire," one demonstrator said while talking to Unicorn Riot News.
— Hellaindividual🧞‍♂️ (@hellaindividual) May 28, 2020
A reporter from the Minneapolis Star Tribune tweeted images of the apartment building engulfed in flames.
Apparently, the apartment building was new construction with no one inside (that has yet to be confirmed).
The fire quickly spread to other structures nearby.
Here are several unbelievable scenes around the apartment complex.
"2020 is really going to go down in the books. This is the typa shit out future kids will read about. This is history in the making," said one Twitter user while referring to the fires.
Looks like an entire block is on fire.
The fire around the apartment building continues to rage early Thursday morning.
Many stores in this "strip mall looted and every window broken," tweeted one user.
Unicorn Riot News tweeted scenes from outside an AutoZone on Wednesday evening that was burned to the ground.
Unicorn Riot tweeted early Thursday morning that "smoke, fire alarm blaring, sprinklers going off inside Target." This is the same Target we noted on Wednesday evening that was looted by dozens, if not hundreds of people.
One Twitter user claims an "aldi may have also burned in the fires."
Protesters were hungry and looted Wendy's.
The situation is getting tense on Thursday morning: "More militarized police have reinforced the roof and perimeter of the MPD 3rd Precinct building. But they're just kind of standing around and law enforcement clearly has given up trying to control Minneapolis right now," Unicorn Riot said.
Confirmed by Unicorn Riot but not official: "AutoZone and Wendy's are all but burned down at this point. Some new condos under construction have gone up in flames as well."
Unicorn Riot claims "shots were just fired" possibly at the police station, which is the area where much of the rioting has been based.
Here's a live Periscope stream of the destruction, and at 5:51 ET, buildings are still on fire, and rioting continues.
Mayor Frey tweeted a plea for an end to the violence:
"Please, Minneapolis, we cannot let tragedy beget more tragedy," the mayor's tweet read. "The area along Lake has become unsafe. We are asking for your help in keeping the peace tonight."
And to make matters worse, social unrest has spread to Los Angeles on Wednesday night, where "black lives matter protesters" surrounded and attacked police cars on Highway 101 in response to what was happening in Minneapolis.
To remind our readers, President Trump signed an executive order in March, giving the Departments of Defense and Homeland Security the authority to activate up to one million National Guard and reservists to support the nationwide response to the COVID-19 outbreak. Though, as we've noted, the troops could be used across American municipalities to maintain social order.
A perfect storm is brewing across America's inner cities of extreme wealth inequality, record-high unemployment, an economic crash, hatred towards cops, and months of lockdowns. All there needed to be was a trigger to ignite the unrest, that trigger could be the death of George Floyd.