From
RT
:
'Dangerous Faggot' Milo Yiannopoulos is now a dangerous heterosexual Christian who wants to help others become 'ex-gay'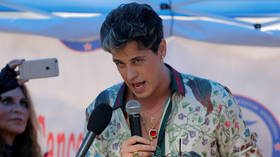 Controversial right-wing self-declared former homosexual Milo Yiannopoulos plans to open a clinic in Florida offering 'conversion therapy' for the thousands of gay men he says have contacted him in the hope of following his path.
Yiannopoulos, the conservative author, philosopher and now the world's most famous ex-gay, has outraged his detractors by going to Hawaii to cast into the ocean what he calls the Sodomy Stone – a four-carat diamond worth $150,000 which he bought as an engagement ring for his marriage to another man.
In a piece to camera, he is seen on a chartered boat holding a Cartier jewellery box. He tells us that he "prayed and drank an enormous amount of vodka" – only Milo could say that – and reminded himself that "nothing beautiful or true can be made or grow on a foundation of wickedness" before tossing the ring into the sea.
The wickedness was a union that Milo now regards as "infernal." The trappings of his former life (he once did a speaking tour under the title 'The Dangerous Faggot') had to be gotten rid of – accompanied by a Celine Dion soundtrack.
"It was a lie that I could be a culture warrior for the right and a sodomite at the same time," Milo, whose husband has been 'demoted' to the status of housemate, tells us.
Not since Coco Chanel was on the Duke of Westminster's yacht and tossed overboard a ruby as big as a hen's egg that he had given her, has there been such speculation and outrage.
In Milo's case, it is coming from the left. It seems that one can aspire to any of the one hundred sexual identities on offer so long as it is not heterosexual.
As one angry critic fumed: "We knew it from the start. He was never homosexual. He was always a rightwing straight white male's parody of what a gay man would be like."
Read more: https://www.rt.com/op-ed/522886-milo-yiannopoulos-gay-clinic/