From
ZeroHedge
:
Update (2315ET): Rioters made quick work of the CNN logo outside the building, covering it with graffiti and standing on it, as if declaring victory over fake news.
In Atlanta, vandals broke into the College Football Hall of Fame where they stole memorabilia.
Meanwhile,
the Treasury Department in DC was breached by rioters
, who spray painted the building. According to
CNN
, some of the protesters were stopped by US Secret Service but eventually let go.
Trying their best to calm things down were New York Mayor Bill de Blasop,
who tweeted
"We have a long night ahead of us in Brooklyn. Our sole focus is deescalating this situation and getting people home safe. There will be a full review of what happened tonight. We don't ever want to see another night like this."
Atlanta Mayor Keisha Bottoms admonished the protesters - telling them "You are disgracing our city, you are disgracing the life of George Floyd"
Maybe the protesters just need to listen to Killer Mike:
* * *
'With ongoing social unrest in Minneapolis, protests are unfolding across major US cities on Friday evening. From Washington, D.C. to New York City to Atlanta to Ohio to Los Angeles to San Jose, tens of thousands of people are marching on the street demanding justice for George Floyd, the man who was killed by Minneapolis Police on Monday.
Starting in Atlanta, protesters have attacking CNN's headquarters.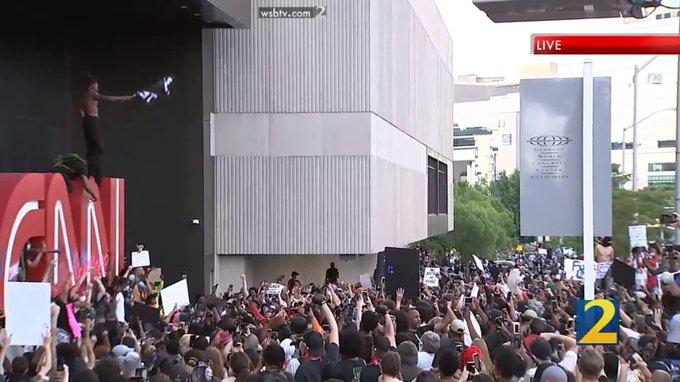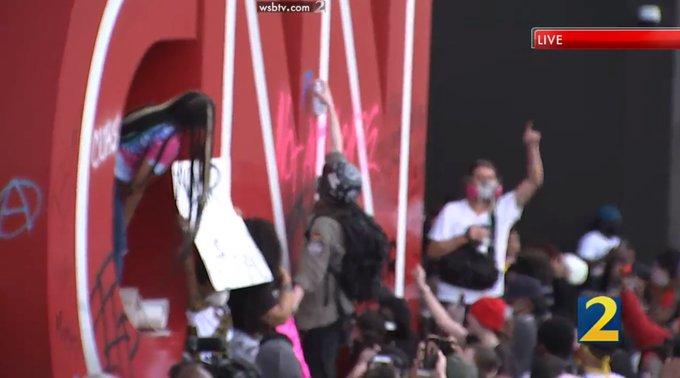 The Atlanta protests quickly turned violent:
CNN's Fernando Alfonso reports the social unrest outside of his newsroom.
Protesters are now setting Atlanta Police Department (APD) vehicles on fire.
Portions of the CNN Center in Atlanta have been outright destroyed even as police in riot gear defend the building
The Atlanta Journal-Constitution tweets several pictures of the chaos and destruction unfolding in downtown Atlanta.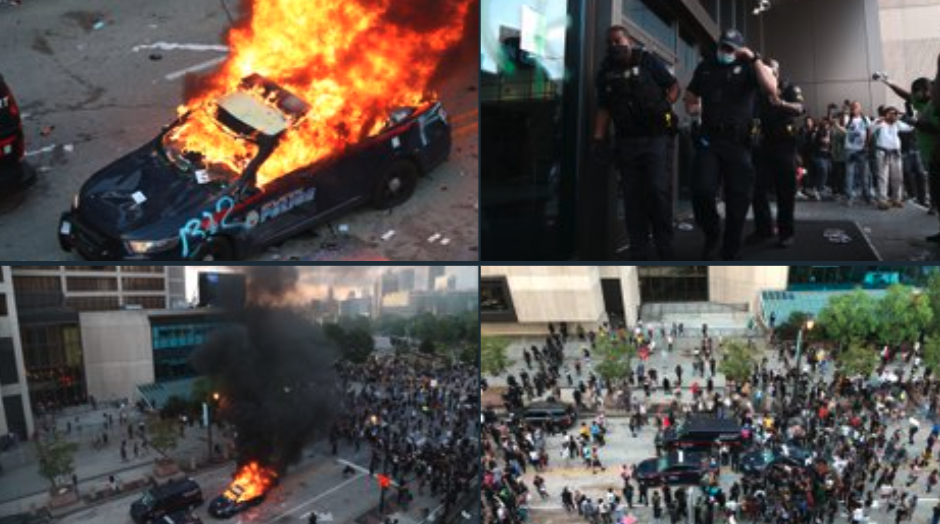 "Black Lives Matter" signs were spotted in Atlanta.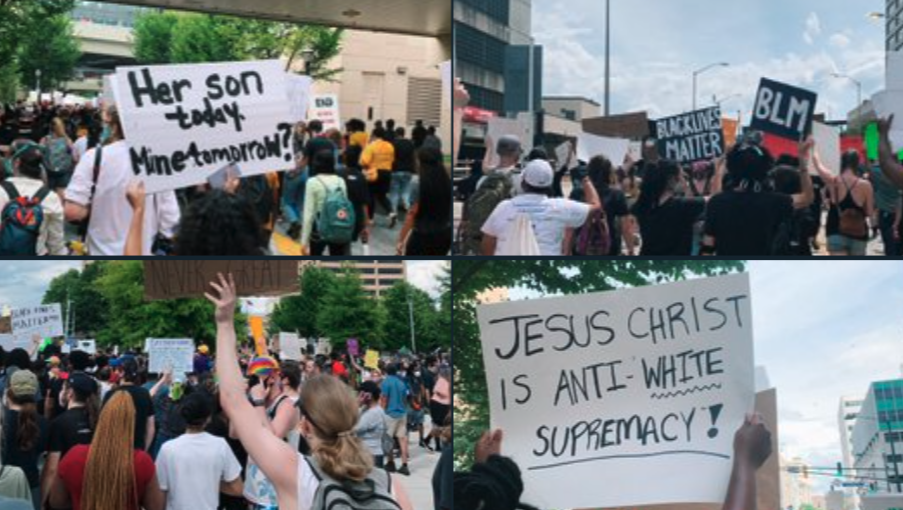 It's getting wild in Atlanta tonight
In Washington, D.C., hundreds of protesters, if not thousands, have assembled outside of the White House.
A protester climbed the fence of a federal building and spray-painted "Fuck Trump."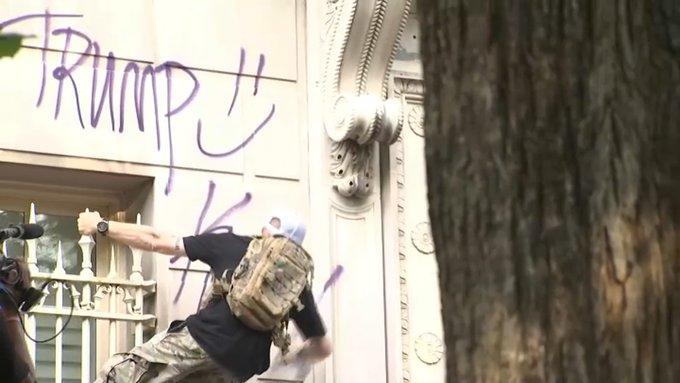 Here's the video:
Secret Service clashes with protesters
Hundreds, maybe even thousands, are marching the streets towards the White House this evening.
Protesters continue to clash with Secret Service in front of the White House.
More folks headed to the White House.
According to VOA's Steve Herman, "the White House is on lockdown, with many reporters stuck inside," due to demonstrations outside.
In New York City, thousands hit the streets in Manhattan to protest police brutality.
NYPD protecting the entrance of the Barclays Center earlier today.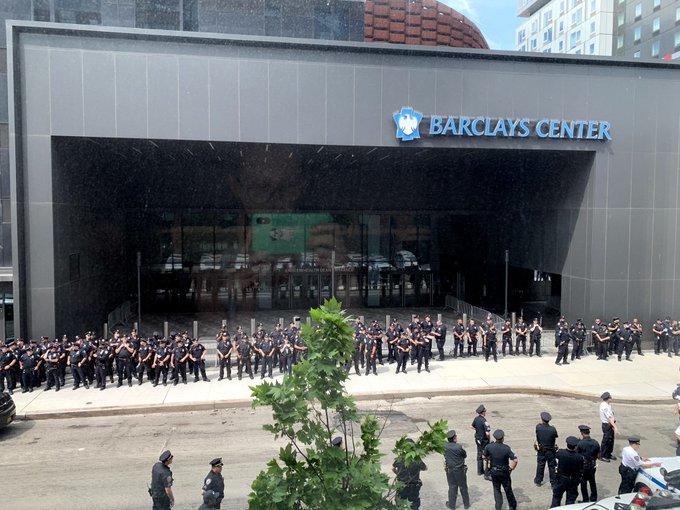 The protest goes from peaceful to violent quickly in NYC.
As night falls, rioters have attacked and overrun the 88th precinct in Brooklyn, resulting in a level 3 mobilization, which requires all special units respond and four cars from every command in the city to location. The 84th precincts is under siege, as well. Also, Brooklyn North.
NYPD van by Fort Green Park set ablaze just now.

Level 3 mobilization to 88 Pct.

10-13 call (Officer down) at 84 Pct.

pic.twitter.com/As3wvUsQuK

— James A. Gagliano (@JamesAGagliano) May 30, 2020
The situation in the Big Apple is quickly turning from bad to worse, with unconfirmed reports that officers have been shot:
Reports of another NYPD 10-13 (Radio call of "Officer down").

Also another RMP (Police van) engulfed in flames.

— James A. Gagliano (@JamesAGagliano) May 30, 2020
Police vans were lit on fire by the angry mob:
The situation in Brooklyn is critical:
One Twiter user
tweets
a list of cities where protests have been seen on Friday evening.
Louisville, KY
Minneapolis, MN
Atlanta, GA
Los Angeles, CA
Evansville, IN
Columbia, SC Charlotte
NC Memphis, TN
Tampa Bay, FL
Columbus, OH
New York City
Phoenix, AZ
Omaha, NE
St. Louis, MO
Ferguson, MO
Houston, TX
In Houston, protesters clash with police.
Protesters "temporarily shut down the northbound lanes of 288 going into downtown Houston Friday afternoon," tweeted Houston Chronicles' Mark Mulligan.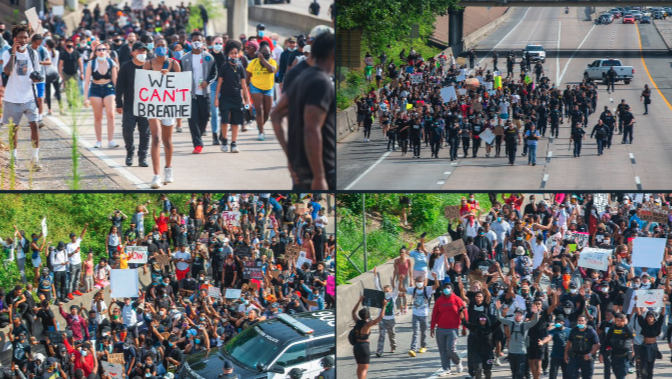 Protesters unleash hell on a Houston Police car.
One Twitter user says "snipers" are "on buildings" in Houston.
On the West Coast, protests in downtown Los Angeles have begun.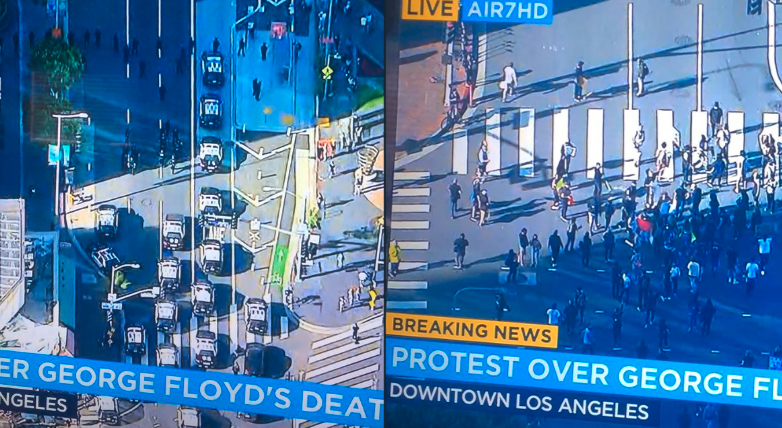 In San Jose, protesters are shutting down 101 Highway.
Nationwide protests are likely to get worse through the weekend. It's only a matter of time before more governors deploy the Nation Guard to restore order. America is quickly descending into chaos.
Watch Protests Live:
Live: George Floyd Death Protests Around The U.S. | NBC News
George Floyd death: Protests continue for 4th straight day in Minneapolis | LIVE