Thursday, June 4, 2020
From
New York Post
:
A large group of protesters gather around the statue of Confederate General Robert E. Lee on Tuesday.
AP Photo/Steve Helber
RICHMOND, Va. — Virginia Gov. Ralph Northam is expected to announce plans Thursday for the removal of an iconic statue of Confederate Gen. Robert E. Lee from Richmond's prominent Monument Avenue, a senior administration official told The Associated Press.
The governor will direct the statue to be moved off its massive pedestal and put into storage while his administration seeks input on a new location, according to the official, who spoke on condition of anonymity because the official was not authorized to speak before the governor's announcement.
The move comes amid turmoil across the nation and around the world over the death of George Floyd, a black man who died after a Minneapolis officer pressed his knee into Floyd's neck for several minutes, even after he stopped moving.
The Lee statue is one of five Confederate monuments along Monument Avenue in Richmond, the former capital of the Confederacy. It has been the target of vandalism during protests in recent days over Floyd's death. The base was covered this week with graffiti, including messages that say "end police brutality" and "stop white supremacy."
It was not immediately clear when the statue would be removed.
again after a violent rally of white supremacists in Charlottesville in 2017.
The Lee monument was erected in 1890, decades after the end of the Civil War.
Also on Wednesday, Richmond Mayor Levar Stoney announced plans to remove the other Confederate monuments along Monument Avenue, which include statues of Confederate President Jefferson Davis and Confederate Gens. Stonewall Jackson and J.E.B. Stuart. Those statues sit on city land, unlike the Lee statue, which is on state property.
Stoney said he would introduce an ordinance July 1 to have the statues removed. That's when a new law goes into effect, which was signed earlier this year by Northam, that undoes an existing state law protecting Confederate monuments and instead lets local governments decide their fate.
Wednesday, June 3, 2020
From
The Journal Times.com
:
RACINE — Five people were shot at North Beach Tuesday evening, Racine Police confirmed late Tuesday night.
All five victims were transported to the hospital, according to Racine Police Public Information Officer Sgt. Chad Melby. The conditions of the victims were unknown as of 11:30 p.m. Tuesday, Melby said. Police had not released the names or any information about the victims at that time.
At 7:20 p.m. when the shooting occurred, about a mile away hundreds of people were gathered outside the Racine County Courthouse chanting in support of justice for George Floyd, who was killed by police in Minneapolis. Around an hour before that, hundreds stood in silence, honoring Floyd.
While police said they didn't know of any association between the shooting and protests that also occurred on Tuesday evening in Racine, tensions were high that night as people flocked to Michigan Avenue to see what was going on after the report of the shooting, with some people shouting at each other.
One man, who was on Michigan Avenue at the time of the shooting, but declined to give his name, said he saw a group in the parking lot near North Beach.
A dispute occurred in the parking lot and multiple people started jumping on top of a truck. The truck then sped off and smashed into a Jeep. At some point someone started randomly spraying bullets at people.
Read more:
https://journaltimes.com/news/local/crime-and-courts/scanner-reports-four-people-shot-at-north-beach-in-racine/article_572d6ba2-0e0a-5a63-ad21-46836145ce01.html#tracking-source=home-breaking
Sad - just sad. North Beach is one of my favorite places to bicycle to.
Meanwhile - look at Downtown Racine
:
RACINE — Multiple Downtown Racine businesses this week have boarded up windows in an attempt to keep them safe in case violence breaks out here in connection to the death of George Floyd in Minneapolis.
Sunday night into Monday morning, several Downtown buildings had windows broken. The former Zahn's building at 500 Main St. in Downtown Racine had a few windows broken. The building is currently vacant, although there are plans in the works to convert it into a boutique hotel.
On Monday, several individuals reported that caches of rocks and bricks were hidden Downtown. No violence erupted on Monday night, but shops left the boards up on Tuesday as a precaution.
Kelly Kruse, Executive Director of Downtown Racine Corporation, said Racine Police and Racine County Sheriff's officials had swept the Downtown area trying to remove any caches of items that could be use to destroy private property. DRC informed business owners so they could take measures to protect their storefronts.
"It's just a sad situation," said Kruse. "I don't think it has anything to do with the protesters. I think this has to do with looters taking advantage of protesting. This is just looters taking advantage of the situation."
On Monday, Dee Hutch and Will Reynoso, owners of Focus 21 Studios, 345 Main St. and employee Luke Ekstowicz were standing outside keeping an eye on the situation shortly after the second protest of the day kicked off down the street. Hutch, who also works at Black Hand Tattoo, 406 Main St., said both shops moved all their equipment to another location, just in case.
Read more:
https://journaltimes.com/news/local/crime-and-courts/downtown-racine-businesses-boarded-up-in-case-of-violence/article_1a85d791-6f23-5e84-bb41-9b86546fcd84.html#tracking-source=home-top-story-1
Tesla
CEO Elon Musk may have had his issues with
California's government officials
over their handling of the coronavirus crisis, but things couldn't have been better with the state's car buyers early this year.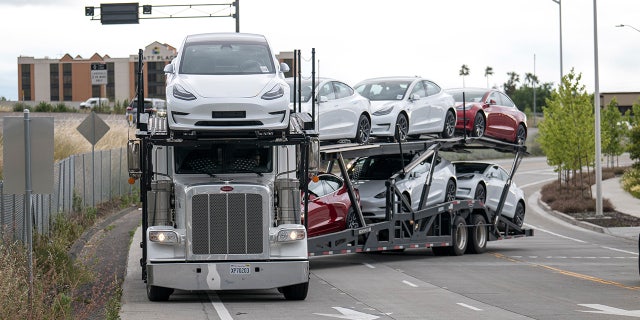 According to the
California New Car Dealers Association
, the Tesla Model 3 was the best-selling vehicle in the state during the first quarter of 2018, marking the first time an electric car topped the list.
Data collected by the association found that 18,853 Model 3s were registered during the period, with the Honda Civic a close second at 18,001. The Toyota Camry, Toyota Rav4 and Honda Accord rounded out the top five. Tesla does not release sales results for individual states and countries, but said it delivered a combined 76,200 of the Model 3 and related Model Y utility vehicle globally during the first three months of the year.
Tesla, which only sells three models, also gained market share, jumping from 4.0 to 4.6 percent, while Toyota remained in first with 17 percent, ahead of Honda at 11.1 percent.
Behind the Model 3, the best selling vehicles from American brands were the Ford F-Series (12,981), Chevrolet Silverado (11,896), and Ram (11,858) pickups.
Hello, my lovely ones! How are you? Have you burned down a police station lately? No? Why not? Everyone else is doing it. What's even better is that they're burning down the stores in their own neighborhoods. Where will they shop? Oh my.
Sunday evening I was talking with a friend. I wondered why Racine had not seen any protests yet. Well, I was wrong. They were protesting as I spoke. For the most part, protesters were law abiding. However, "outside agitators" drove them into a frenzy and they started destroying stuff. A COP House was burned on Villa Street. Such actions definitely help out the cause. Whitey starts to listen when you burn down your own neighborhood. Right. Idiots.
Speaking of idiots, Junior is doing much better now that Racine has "reopened." He has places to go and things to do. No more bouncing off of the walls. No more chewing up his mattress. No more howling at the moon.
Señor Zanza, of course, has maintained his composure. He has been an angel. In our time of need, Señor Zanza has performed perfectly. An absolute doll. I don't know what I did to deserve him, but I'm so grateful that he is in our lives. He doesn't ask what needs doing, he just does it. And he does it well. Thank You, Lord, for Señor Zanza.
Mr. Mayor Cory 'Butterball' Mason declared a curfew for Racine. He certainly is a take charge kind of guy. I hear that he's so upset about the protests and fires that he's hiring more assistants and further lowering the property taxes on his home. That will show the protesters who's boss.
Sheriff Schmaling
Police Chief Howell
Racine Police Chief Art Howell is blaming the destructive element of the protesters on "outside agitators." See:
https://journaltimes.com/news/local/crime-and-courts/with-video-racine-chief-blames-fire-and-looting-mostly-on-outsiders/article_6ec0b8d4-654b-51f3-82c4-d1ce0507c9c9.html#tracking-source=home-top-story-1
How would he know? Does the fact that he is black mean that he knows everything that goes on in the black community? What he really is is a toady to Mr. Mayor 'Butterball.' If you want integrity in local law enforcement, you have to look to Racine County Sheriff Christopher Schmaling.
Of course, all of these protests and demonstrations take place during the COVID-19 pandemic. How many protesters will get sick because of their fraternization? Some were wearing masks, but many were not. Burn, baby burn may turn into cough, baby, cough. When asked about this, most protesters took a fatalistic stance: "If I get the coronavirus, I get it." I wonder if they would be so blasé if asked the question while they were unable to breathe.
Take care of yourselves, my dears. I love you all and thank you for reading my blog today. We are family. Never forget that.
madamezoltar@jtirregulars.com
Please be sure to respect one another. It's our best hope for peace.
_
_______________________
Please donate:
paypal.me/jgmazelis
If you don't like PayPal, send me a note at

madamezoltar@jtirregulars.com

and I'll send you my street address so you can send a check or money order. Tha

nk you.
Tuesday, June 2, 2020
From
Racine County Corruption
:
"T J" Identified
Trevor Jackson of the 1600 block of Flett street was killed with an air pellet rifle by one of his disgruntled drug customers.
Now that is something you won't read in the
As the Racine Journal Times continue to ignore news stories within Racine County, the Milwaukee Journal is expanding their roles into unserved news markets such as Racine.
Watch Talking Racine with information about the RUSD Billion Dollar Referendum the
local newspaper won't report.
From
Racine County Corruption
:
City of Racine, Wi.
ILLUMINATING HIDDEN TRUTHS
THE FIX IS IN
Shannon Powell
Is Shannon Powell to be the new
City of Racine Administrator?
Well not exactly, but he may be given similar duties as outgoing administrator Jim Palenick.
You may read more about outgoing city administrator
Jim Palenick
Palenick began his tenure in Racine under a dark cloud of political gaffe and corrupt government, compliments of Mayor Dickert's regime and Mayor Mason.
During his short tenure as city administrator, Palenick had to endure and address Machinery Row, secret meetings, secret surveys, secret courts, secret contracts, no bid contracts, broken contracts and fraud.
Imagine how the City of Racine could have tainted his career ?
Palenick thru it all maintained a higher standard than the ass wipes he was working with.
We believe Jim couldn't get out of Racine soon enough.
It appears that Mr. Powell has had a fairly light schedule as communications director for the city. Mayor Mason has also used him as a
chauffeur and needs to find him a career position within the city. When Palenick leaves, the city may just change the Administrator title to ? and slide Powell into Palenick's old office.
Problem fixed!
Does it pay to be Mason's boy toy?
Argh!
From
Racine County Corruption

:
Mayor "Coryuption" Mason
What will Mayor Mason choose?
Should rioting and anarchy come to Racine, will Mason choose anarchy or law and order?
Will the Racine Police Department
serve and protect
or will they run like cowards as the
Minneapolis police department did?
Let's pray that we don't have to find out.
Citizens have rights to demonstrate, to call out derelict,
corrupt and dangerous members of government, but they don't have the right to engage in criminal misconduct to riot, pillage and destroy local infrastructure.
The City of Racine has seen numerous civil protest against corrupt and dangerous members within local government, most without incident.
Several peace marches and vigils were held by the public to protest the killing of Donte Shannon and Tyrese West by local police.
These marches were peaceful and well within their
rights to protest.
During the 2019 Fourth of July parade in downtown Racine, Milwaukee citizen Tory Lowe disrupted the theme of the parade and called attention to the
Mt. Pleasant police killing of
18 year old Tyrese West.
Tory Lowe
Mr. Lowe didn't destroy property, didn't set fire to police cars and didn't threaten anyone, his protest was provocative,
peaceful and within reason.
Mr. Lowe was apprehended by the City of Racine police department, cited for disorderly conduct and released.
Case # 2019 FO 000789
He is currently scheduled for trial on 6-18-2020, 8:30 am,
6 person jury, Racine County
Courthouse, 2 floor,
judge Robert Repischak presiding.
HOT Government on December 21, 2019 held
"PARTY ON THE PROMENADE"
in honor of "CORRUPTION" within Racine.
You may click to view the party here:
https://youtu.be/Se0dev2fTd8
HOT Government illuminated the truth, exposed, mocked, humiliated and degraded local corrupt Racine officials during the celebrations. These types of protest are healthy for the community as it exposes the dirty dealings of local government and encourages public discussion of the ills of our community. Civil protest are a fundamental right,
guaranteed by the First amendment
of the U.S.Constitution.
Civil protest are just that, civil, they are peaceful with respect to the surroundings within our community, riots are not.
When riots happen, as in Minneapolis it is a knee jerk reaction against the unaccountable acts by public officials to fix their broken and corrupt offices. In essence, Hennepin county government is the root cause of the riots for not cleaning their own house. The police union, the Blue line, Hennepin County District Attorney's office and the derelict judges are all to blame. Hennepin County got what they negotiated as well as numerous other corrupt communities who have had riots, because,
where there is no hope, there is only despair.
Communities who lack civilian oversight or hold any real accountability of government officials, whether it is the mayor, police, D.A's office or even public works, or the culture exist in government that tolerates and protects the bad apples from within, then you can bet dollars to donuts that the community will suffer discord and anarchy.
The criminal elements within Racine government are fostering anarchy within Racine County, "Coryuption" is rampant and it is only a matter of time before anarchy strikes home.
Got insurance?
From
JSOnline
:
Chris Foran
, Milwaukee Journal Sentinel
Former Wisconsin Gov. Scott Walker is getting flak on social media for a tweet praising President Donald Trump leaving the White House on foot Monday during protests in the nation's capital.
"Hard to imagine any other @POTUS having the guts to walk out of the White House like this."
The tweet included a black-and-white photo of the president — accompanied by a sizable entourage, including Secret Service and several soldiers in uniform — walking from the White House across Lafayette Square to St. John's Episcopal Church, for a photo opportunity in front of the church. The historic church had been damaged by fire during protests Sunday night over the death of George Floyd in police custody in Minneapolis.
As of mid-morning Tuesday, the tweet had more than 37,000 "likes" and had more than 56,000 comments. Among the latter were a slew of criticisms of Walker, who ran unsuccessfully for the Republican nomination against Trump in 2016, for conflating Trump's event with acts by his predecessors in more perilous situations. Many of those critics pointed out that Lafayette Square had been
emptied of protesters by law enforcement officers using tear gas, rubber bullets and shields.
Several critics pointed out another Wisconsin connection for Walker: A president was shot here.
Much of the criticism aimed at Walker focused on past presidents facing conflicts on the battlefield, from George Washington to Dwight D. Eisenhower.

Except maybe Washington, Madison (who was in the WH while DC was under attack), Lincoln (who rode out to see the fighting during the Early raid, Zachary Taylor, William Henry Harrison, U.S. Grant, or Theodore Roosevelt (who led troops in battle)/1
See Prof. Garrett Epps's other Tweets
Even one of Walker's former front-line backers got in on the Walker bashing: Charlie Sykes, former Milwaukee conservative talk-radio host, and now the editor of The Bulwark, "a news network launched in 2018 dedicated to providing political analysis and reporting free from the constraints of partisan loyalties or tribal prejudices" — which spends a good deal of time taking on Trump and his allies.