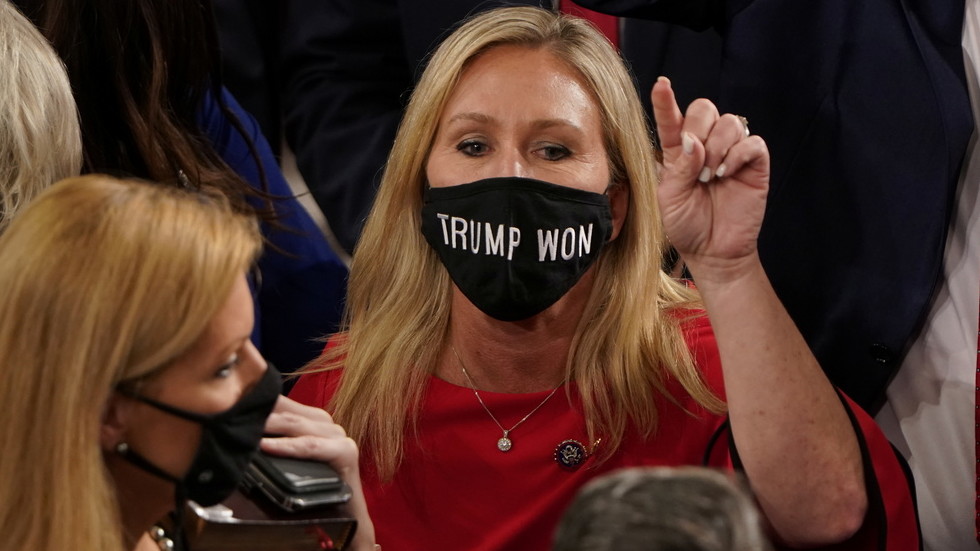 FILE PHOTO: Congresswoman Marjorie Taylor Greene (R-Georgia) is seen on the floor of the House to take her oath of office as a newly elected member of Congress in Washington, DC.
©
Reuters / Joshua Roberts
A Republican member of the US House of Representatives has filed articles of impeachment against newly inaugurated President Joe Biden, underscoring how the whole process has become politically weaponized.
Rep. Marjorie Taylor Greene (R-Georgia), elected to her first term in November, accused Biden of being "unfit to hold the office" and a "lengthy and disturbing" pattern of "abuse of power" while he was Barack Obama's vice president, citing his threats to the Ukrainian government and his son Hunter Biden's shady business deals overseas among the examples.
In a statement on Thursday, Greene said Biden has shown he would do "whatever it takes" to bail out his son and "line his family's pockets with cash from corrupt foreign energy companies."
"President Biden residing in the White House is a threat to national security and he must be immediately impeached," she added. In filing the articles, the Georgia congresswoman kept the promise she made a week ago, to impeach Biden on his first full day in office.
The motion is extremely unlikely to succeed. Republicans are a minority in the House of Representatives, and Greene herself hardly speaks for the party as a whole. She has also been under relentless media attack for months as a conspiracy theorist, from 'QAnon' to calling the mass shootings in Sandy Hook and Parkland "false flags."
Read more: https://www.rt.com/usa/513282-qanon-rep-impeachment-biden/