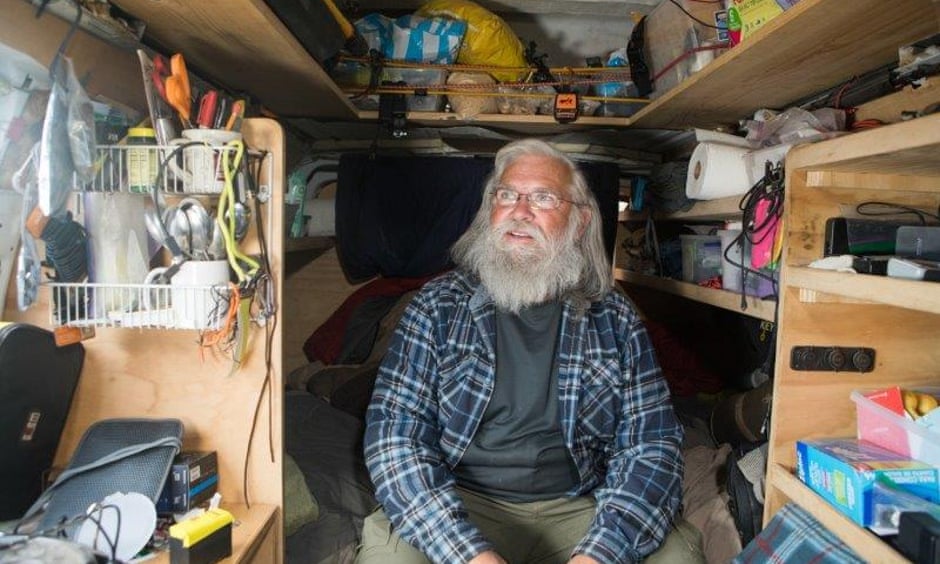 Bob Wells: 'Then came the first of the month, and something clicked: he didn't have to pay rent.'
Photograph: Angie Smith
Across US public lands thousands of people are taking to van life, as featured in the Oscar-tipped film Nomadland
If you look closely on city streets, campgrounds and stretches of desert run by the Bureau of Land Management, you'll see more Americans living in vehicles than ever before. It was never their plan.
"I wasn't prepared when I had to move into my SUV. The transmission was going. I had no money saved. I was really scared," said April Craren, 52, bundled in blankets atop a cot inside her new minivan, a 2003 Toyota Sienna.
She flipped the camera on her phone to show me the camp stove she uses to make coffee and her view of the sun rising over the Colorado River. She has no toilet, shower or refrigeration.
After separating from her husband, April found herself homeless in June 2020, exacerbating the depressive disorder for which she receives $1,100 a month in disability benefits.
"I could have gotten an apartment but in a crappy unsafe place with no money to do anything at all," she explained.
Last year, where April lived in Nixa, Missouri, the average rent for an apartment was $762, slightly less than the national average. Like nearly half of American renters, she would have been crippled by the cost.
Read more:
https://www.theguardian.com/lifeandstyle/2021/feb/04/modern-nomads-nomadland-van-life-us-public-lands?utm_source=pocket-newtab