From
The Journal Times.com
:
Kenosha community activists and area residents decried the actions of some local police officers who they said brutalized and detained the wrong person at an Applebee's restaurant. The incident, last month, occurred after a hit-and-run crash at Green Bay Road and Highway 50.
The man's arrest was captured on a video by a restaurant patron and has since gone viral on social media. The incident has sparked headlines across the region.
The crash happened at about 11 p.m. on July 20 and vehicles ended in the parking lot at the Applebee's, 6950 Green Bay Road.
In the video, the man who is being subdued tells police to let him go while a woman screams to someone telling them to "get the baby." The man and the baby are then seen on the floor when the man tells at least two officers to let him go and someone appears to pull the child away.
Officers continue to wrestle the man to the ground until they handcuff him behind his back.
However, the video appears to show an officer's arm and elbow moving repeatedly over the man while the person recording tells them to stop. Another officer tells the man recording the scene to step back. Officers from Kenosha and Pleasant Prairie police departments were on scene.
Officers later learned they had arrested the wrong man along with the woman he was with.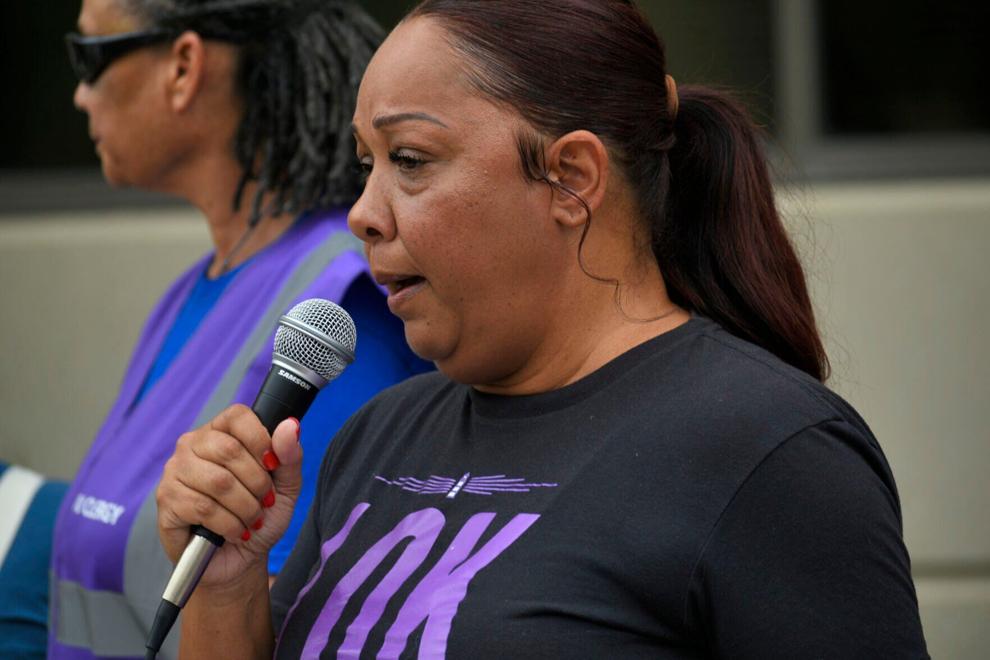 Tanya McLean, executive director of Leaders of Kenosha, organized a protest Wednesday evening at the Public Safety Building, 1000 55th St. Leaders of Kenosha is a nonprofit organization that advocates for equity and social justice.
McLean was accompanied by members of local groups Congregations United to Serve Humanity (CUSH), the Kenosha Coalition for Dismantling Racism, the NAACP Kenosha Branch and the Urban League of Racine and Kenosha.
"We're meeting today because we've all watched the video that is circulating about a young African American male who was assaulted by a police officer at Applebee's in Kenosha," McLean told the 30 to 40 people in attendance.
"We really are disheartened by how the police officers chose to go to that family. There was just a lack of de-escalation. Everything happened so quickly. It elevated so quickly. It just didn't seem that anyone was a voice of reason that had a uniform on. The only person that seemed to have a voice of reason was the Applebee's employees, you know, trying to get the baby. But the police officers, it just does not appear that they were using good judgement and that's just not OK."
McLean also said they "want to know why police officers are not being respectful to community members here in this city."
"What is it that makes you feel as if you need to be so overly aggressive, so confrontational?" McLean said. "What is it that just frightens you because we know that when people are fearful they act in irrational ways. So what is it that you're so afraid of? When you see me, when you see another person of color, what is it that's rattling you so bad that you feel like you have to escalate something to that level?"
McLean said she has been in contact with the Illinois man. McLean demanded any police body camera footage of the arrest be released to the public.
"Now we have another situation where a young man was assaulted with a baby in his arms and harm was brought to the baby. That is unacceptable," McLean said. "What is it that you're so fearful of that you have to use that level of force against a young man, a baby and his wife?"
'Angry, deeply saddened'
The Rev. Monica Cummings, vice president of CUSH, said that when she watched the video of the incident she was first, angry, and then, deeply saddened. She opened her remarks with a moment of silence.
"(I was) heartbroken that an incident where a Black man experienced the trauma of being forced to the ground by police for no reason while eating with his family," Cummings said.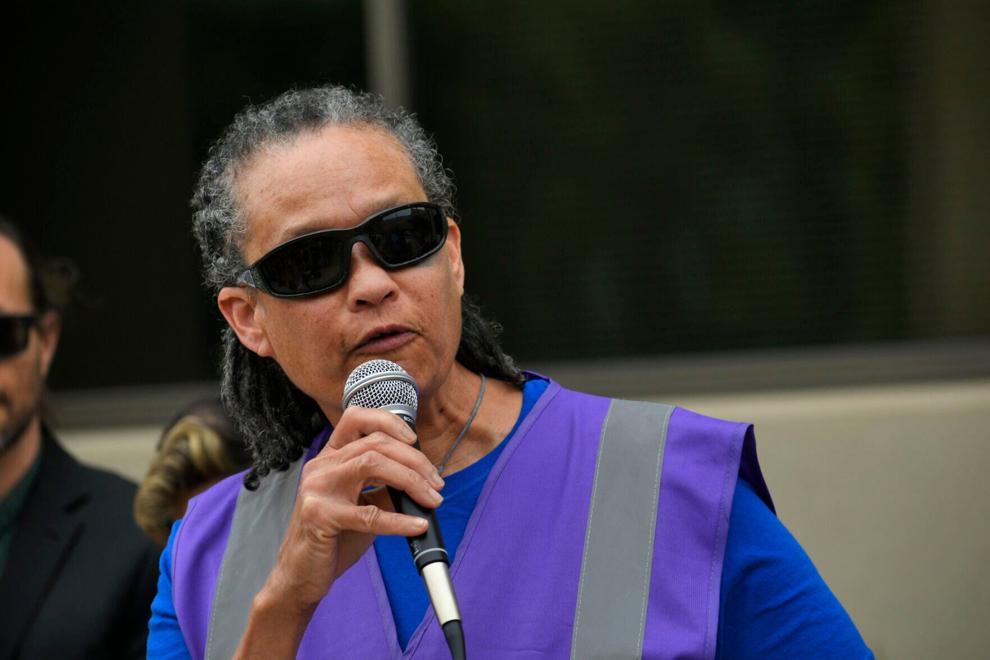 "Heartbroken that a Black baby now has to live with the trauma of experiencing and witnessing her father being yelled at and her little Black body being yanked at by police. Heartbroken that a mother had to experience the trauma of standing by helpless while her partner and baby were being traumatized and hearing her baby cry and powerless to do anything about it."
Cummings said "I don't think it's too much to ask" for police "to be guardians to the communities they are sworn to protect and serve and not military-minded warriors who behave like an occupying force and treat certain citizens like enemy combatants."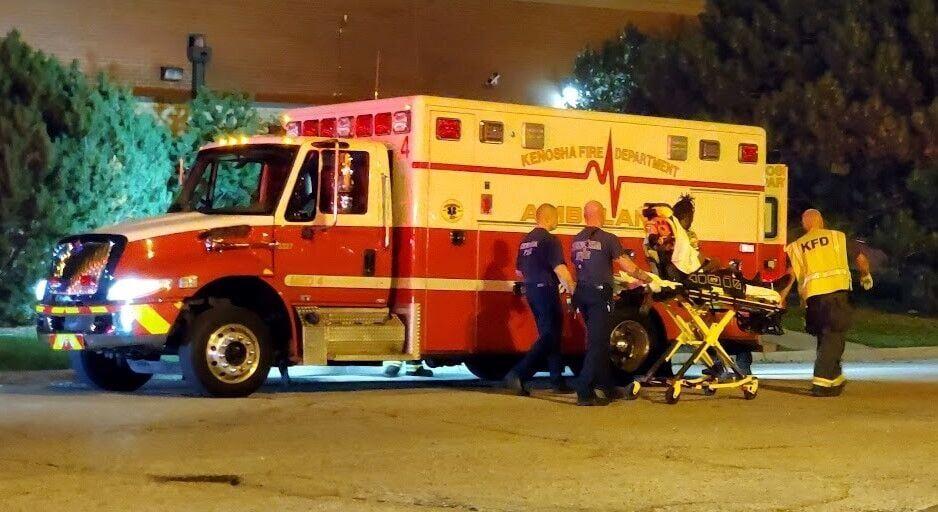 Alex Whitaker, vice president of the Kenosha Coalition for Dismantling Racism, said the "brutality" in the viral arrest video "was unacceptable."
"The Coalition for Dismantling Racism calls on the police department to initiate a thorough and transparent investigation into the details of that arrest," Whitaker said.
"We also request a third-party report as to whether use of force training protocols were followed by the arresting officers that night. ... We also call for a third-party assessment of the current culture within the Kenosha Police Department," Whitaker said.
"Recent and not-so-recent interactions between officers and the community reveal the possibility of a culture of us vs. them that has arisen and possibly impacts the interactions of officers and those they are there to serve, especially as it relates to historically marginalized groups. The purpose of our calls is reform."
Organizers asked the dozens in attendance to write to their locally elected officials.
The man was charged with disorderly conduct and resisting an officer. The woman was arrested on the same charges and for possession of THC.
Police investigating incident
Patton said the Wisconsin Department of Justice requires police to perform a "use of force" review.
"This use of force didn't meet that requirement, but us as a department, we go a step further by policy and we investigate all uses of force," Patton said, referring to the department policy which was initiated in 2022 and put in practice by early January.
The process involves completing use of force logs, after an initial investigation indicates that such force is used, Patton said. That triggers an internal investigation for which a "use of force expert" is in the process of reviewing the incident. He said that process began the day after the incident occurred.
The case was assigned to the Kenosha Police Department's office of professional standards.
Patton has said that officers were following a lead in "good faith" that led to the couple in the restaurant that had matched the description of suspects in the hit-and-run.
Patton said he did not know what injuries that man had, but said that pepper spray was involved while officers subdued him. The man was transported to a local hospital following the incident.
"People fled. They went into Applebee's. We went and made contact with the Applebee's' employees and they pointed them out," Patton said.
The chief said the man and woman matched the description given to police. Patton said the review will look to determine aspects that may have gone wrong or right, disciplinary action that may or may not be taken and whether additional training is needed.
"Ultimately, we were able to determine that they weren't them, they just matched the description," Patton said.
He said according to some Applebee's employees, the couple had been "acting nervous."