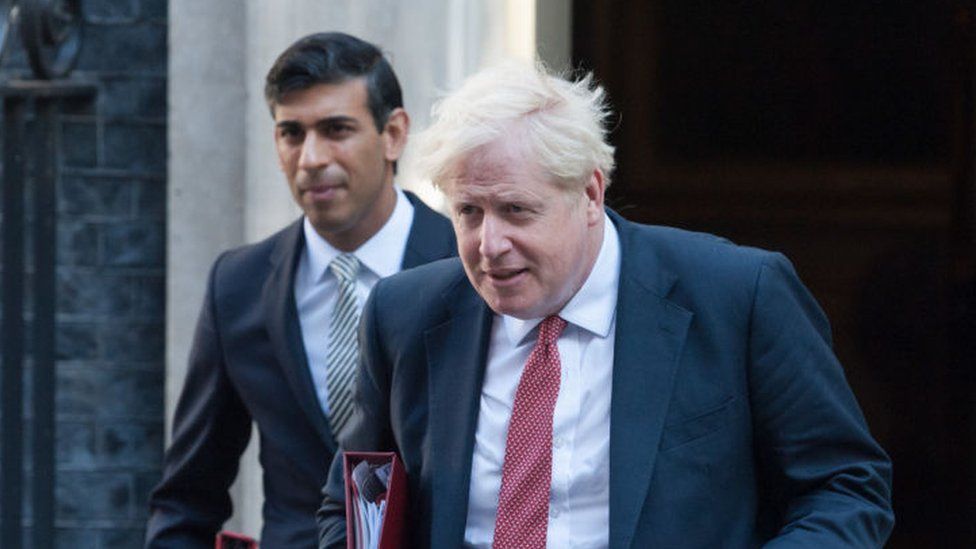 GETTY IMAGES
The prime minister and chancellor are now self-isolating after contact with Health Secretary Sajid Javid, who has tested positive for coronavirus.
But opposition parties said it suggested there was "one rule for them and another for the rest of us".
The PM later said they had "briefly" considered taking part in the scheme.
It comes ahead of the lifting of lockdown rules in England from Monday.
Almost all legal restrictions are to end, including limits on how many people can meet, and nightclubs will reopen, but self-isolation rules will remain.
'Stick with the programme'
Following news that Mr Javid had tested positive and been in contact with Boris Johnson and Rishi Sunak, No 10 said a workplace pilot scheme would allow them to keep working from Downing Street.
But the announcement met with an angry response, with Labour's Jonathan Ashworth saying it was unfair politicians appeared to have access to "VIP testing" to avoid self-isolation, while Liberal Democrat Leader Ed Davey asked if it was only available to the "privileged few".
Read more: https://www.bbc.com/news/uk-57879730