A Baraboo woman allegedly went on a vulgarity-filled rant while threatening a law enforcement officer after being arrested for her third operating while intoxicated offense when she was found sleeping drunk behind the wheel of her vehicle in the town of Clearfield.
Bridgett McDonald, 32, of Baraboo is charged with felony threat to a law enforcement officer and misdemeanor operating a motor vehicle while under the influence, third offense. If convicted of the felony charge she faces up to six years in prison or a fine of up to $10,000, or both.
. . . . .
Morris transported McDonald to the Juneau County Jail. During the transport McDonald repeated threats, vulgarities and insults aimed at Morris.
McDonald stated that her car was not going anywhere and she would get it back in the morning. She said of Morris "I guarantee you still ugly, and I guarantee your momma still hates you." She said, using vulgar language, that she does not come to Mauston because of "imbredded (expletive)" and "Yo' momma (expletive) yo' brother, that's what the problem is."
McDonald said she understood Morris because "You (people) have must got no life outside this sorry-ass, goofy-ass (expletive) outside goofy-ass (expletive) woods type of (expletive) you live in. You live in the woods like you (expletive) bears or something. Goofy (expletive)."
Discussing the towing of her car, McDonald asked Morris if it gave her "brownie points" and said "Wait 'till I see you in the streets. Wait 'til I see your (expletive) ass in the restaurant, ho. I swear to God, I'm gonna stomp the (expletive) out you stupid ass… you're lucky I don't come out in this woods."
McDonald stated she did not care Morris is a police officer, saying "You ain't a police officer every day. Remember that when I see you in the streets," and "You ain't gonna be able to charge me with beating a police officer." Following several other expletives and threats she said "You gonna get shot in the (expletive) forehead, (expletive)."
McDonald made several further references to "beating" Morris "in the streets," and again commented about her relatives and inbreeding. Once arriving at the jail McDonald continued to threaten Morris in front of other officers.
McDonald refused to submit to an evidentiary blood test. A warrant was issued and a blood draw performed.
McDonald is scheduled for a plea hearing Feb. 17 at the Juneau County Justice Center.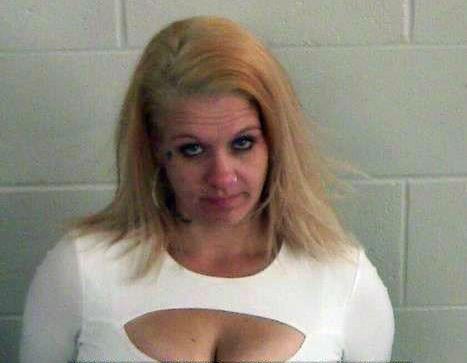 McDonald
From:
https://www.wiscnews.com/juneaucountystartimes/news/local/crime-and-courts/baraboo-woman-charged-with-threats-to-a-law-enforcement-officer-after-3rd-owi-arrest-in/article_76203be5-b8ec-5a96-b046-a0556b5d44c2.html