While San Francisco pays
six-figure poop patrollers
to keep up with the city's fecal fiasco, Los Angeles may have to start handing out plastic ponchos.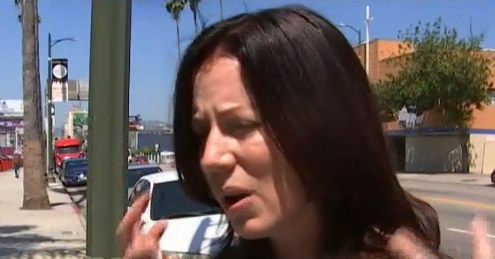 According to
NBC Los Angeles
' 'Streets of Shame' series, a homeless man randomly pulled a woman out of her car and hit her with a
hot diarrhea attack
.
A night near the Hollywood Walk of Fame would change a woman's life, as she was getting into her car and a homeless man sprinted across Hollywood Boulevard toward her.

Heidi Van Tassel was parked in Hollywood after having a pleasant evening out with friends at an authentic Thai restaurant. Suddenly a man randomly pulled her out of the car, dragged her out to the middle of the street, and dumped a bucket of feces on her head, Van Tassel said and public records confirm.
"It was diarrhea. Hot liquid. I was soaked, and it was coming off my eyelashes and into my eyes," she told NBC. "Paramedics who came to treat me said there was so much of it on me, that it looked like the man was saving it up for a month."
"It was all inside my car because it was so much. He just kept pouring it and splattering it all over me.
While Heidi is now getting tested for diseases every three months and has PTSD, her attacker was arrested, charged with battery, and found mentally incompetent to stand trial. He is now back on the street.
Meanwhile to the North, San Francisco's incoming district attorney Chesa Boudin said upon his Saturday night election victory: "We will not prosecute cases involving quality-of-life crimes. Crimes such as public camping, offering or soliciting sex, public urination, blocking a sidewalk, etc., should not and will not be prosecuted."
"Many of these crimes are still being prosecuted, we have a long way to go to decriminalize poverty and homelessness," he added, according to the
Daily Caller
.
About Boudin - per the Caller:
Boudin's parents were

members

of the Weather Underground domestic terrorist group.

Boudin "was raised in Chicago by Weather Underground leaders Bill Ayers and Bernardine Dohrn" after his parents were sent to prison on murder charges while he was a toddler, NBC News

noted

.

Democratic presidential candidate Sen. Bernie Sanders cheered Boudin's victory in the election. "Now is the moment to fundamentally transform our racist and broken criminal justice system by ending mass incarceration, the failed war on drugs and the criminalization of poverty," the Vermont Sen. wrote on Twitter Saturday, congratulating Boudin on his "historic victory!"
The aristocrats!