Saturday, January 1, 2022
From
Fox6Now
:
MOUNT PLEASANT, Wis. - Two people were taken into custody following and police pursuit in Mount Pleasant Friday, Dec. 31.
According to police, a Mount Pleasant officer attempted to conduct a traffic stop on a Jeep Grand Cherokee near the intersection of 21st Street and Howe Street around 1:40 a.m.
Police say the driver immediately increased in speed, went through several stop signs, and made abrupt turns in an attempt to flee from the officer. When the officer caught up to the vehicle, the driver put the vehicle in reverse and fled on foot.
The vehicle ended up striking the front of the officer's patrol vehicle.
Officers immediately heard screaming coming from inside the residence where the fleeing driver ran into. Officers quickly made entry to that residence to ensure no one was in danger, and subsequently took the suspect into custody.
Police say a second individual on the scene impeded this investigation and was also taken into custody after resisting arrest.
After a canvas of the area, it was learned the suspect had tossed a handgun and a large amount of marijuana when he fled on foot.
He was identified as a 26-year-old man from Racine. He is a convicted felon who should not have been possessing a firearm.
The second individual who was arrested on the scene was identified as a 28-year-old man from Racine.
From: https://www.fox6now.com/news/mount-pleasant-police-pursuit-suspect-tossed-gun-marijuana
Friday, December 31, 2021


The stupid asshole got what he deserved. Too bad a tiger was killed as a result of his idiocy.
Posted by

OrbsCorbs
at 3:02 AM
1 comment:

From
TMJ4
:
U.S. Census Bureau: Milwaukee's poverty rate is 25.4%
Posted at
11:36 AM, Dec 30, 2021
and last updated
11:36 AM, Dec 30, 2021
MILWAUKEE — According to U.S. Census Bureau data, Milwaukee ranks second in poverty level among the top 50 most-populated cities in the United States.
Forbes reported on poverty rates across all 50 U.S. states using data from the U.S. Census Bureau's 2019 and 2014 American Community survey, Five-Year Estimates. The report analyzed all major cities in the nation with populations of at least 100,000.
Milwaukee, the 31st largest U.S. city has a poverty rate of 25.4%. In contrast, New York City, the largest American city, has a poverty rate of 17.9 percent. The only Top-50 city with a higher poverty rate than Milwaukee is Detroit. It is the 21st largest U.S. city, and has a poverty rate of 35%.
However, there are cities outside the top 50 that have higher poverty rates than Milwaukee. Those include Cleveland, 32.7 percent, Rochester, 31.3 percent, and Syracuse at 31 percent.
As for cities with the lowest poverty rates, Highlands Ranch in Colorado is ranked first, followed by Centennial in Colorado and Pearland, Texas.
From: https://www.tmj4.com/news/local-news/milwaukee-ranks-2nd-in-poverty-level-among-top-50-most-populated-cities-in-u-s
From
Fox6Now
:
MILWAUKEE - Two Milwaukee Walmarts will close Thursday for sanitation purposes, a news release said.
The Walmart locations at 103rd and Silver Spring on the city's northwest side and 27th and Ohio on the city's south side, will both close at 2 p.m. Thursday and plan to reopen at 6 a.m. on Jan. 1.
This will allow extra time for a third-party specialist to further sanitize the store and will also give our associates additional time to restock shelves and prepare the store to once again serve the community. We plan to reopen the store to customers at 6 a.m. on Saturday, Jan. 1.
In a statement, Walmart said:
"Everything we're doing is for the well-being of our associates and the thousands of customers we serve daily, and in consideration of guidance by the Centers for Disease Control (CDC) and health experts. Given the rise in positive cases, we will follow CDC guidance, which includes fully vaccinated people wearing masks in public indoor settings in counties with substantial or high transmission."
From: https://www.fox6now.com/news/2-milwaukee-walmarts-close-for-sanitation
From
Fox6Now
:
MILWAUKEE - The National Weather Service has issued a winter storm watch for Milwaukee, Racine, and Kenosha counties to be in effect from noon on Saturday, Jan. 1 through 6 a.m. on Sunday. Monitor the complete FOX6 Weather Experts forecast for updates.
The watch means there is the potential for significant snowfall of six inches or more. Travel may also be hazardous.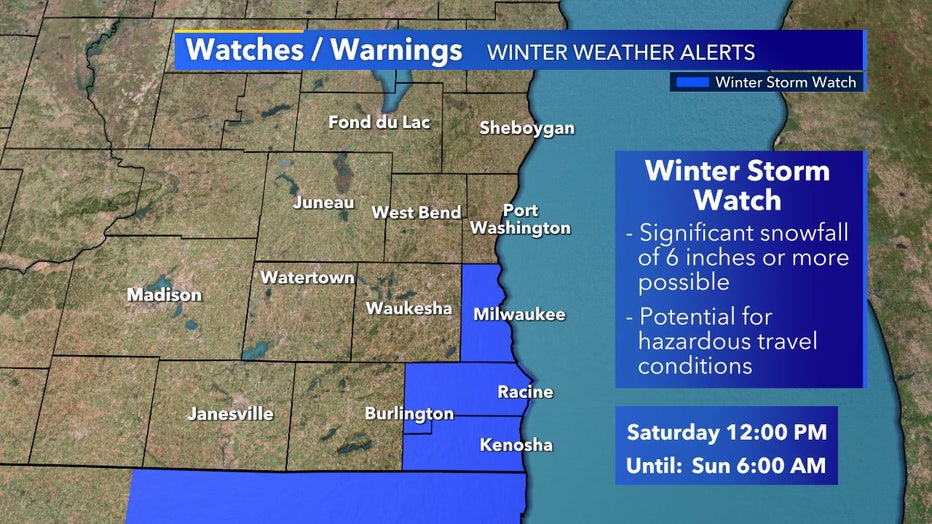 Meanwhile, FOX6Now.com offers a variety of extremely useful weather tools to help you navigate the stormy season. They include the following:
FOX6 Storm Center app
FOX6 News app
FOX Weather app
MAPS AND RADAR
We have a host of maps and radars on the FOX6 Weather page that are updating regularly — to provide you the most accurate assessment of the weather. From a county-by-county view to the Midwest regional radar and a national view — it's all there. All of these images are at the ready — just one click away.
SCHOOL AND BUSINESS CLOSINGS
When the weather gets a little dicey, schools and businesses may shut down. CLICK HERE to monitor the latest list of closings, cancellations, and delays reported in southeast Wisconsin.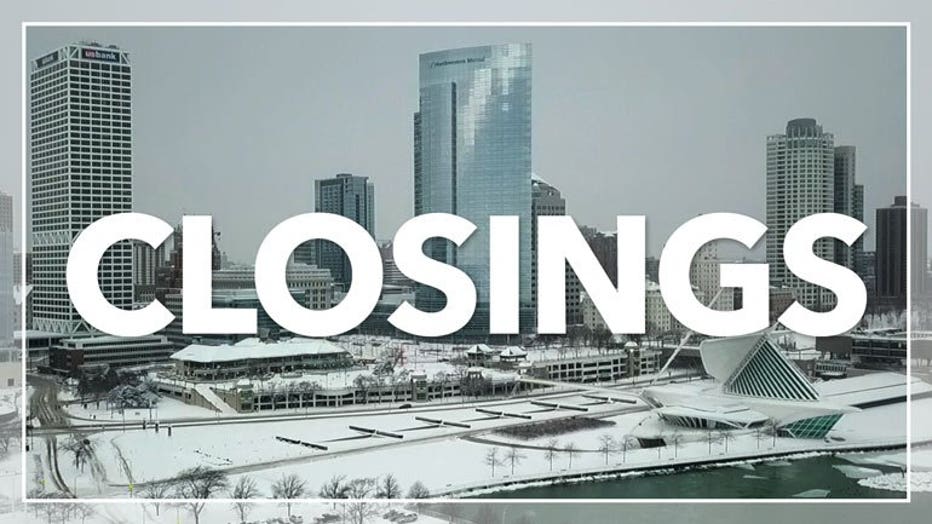 FOX6 WEATHER IN SOCIAL MEDIA
From:
https://www.fox6now.com/news/winter-storm-watch-beginning-noon-saturday