Saturday, May 15, 2021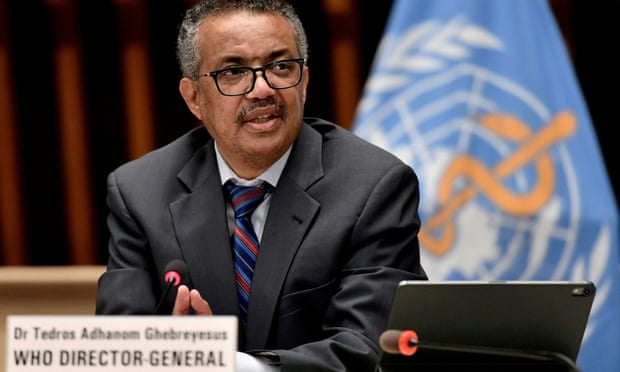 The World Health Organization's director-general, Tedros Adhanom Ghebreyesus.
Photograph: Reuters
The WHO has urged wealthy countries to reconsider plans to vaccinate children against Covid-19 and instead to donate doses to poorer nations, while warning that the pandemic's second year looks set to be more deadly.
The World Health Organization's director-general, Tedros Adhanom Ghebreyesus, voiced outrage that a number of rich countries were now vaccinating children and teenagers while poorer states had barely begun vaccinating health workers and their most vulnerable groups.
Instead of offering jabs to young and healthy people, countries should give their doses to the Covax global vaccine-sharing scheme and thereby ensure that those most in need in all countries receive protection, he said.
"In January, I spoke about the potential unfolding of a moral catastrophe," he told a press conference. "Unfortunately, we're now witnessing this play out. In a handful of rich countries, which bought up the majority of the supply, lower-risk groups are now being vaccinated.
"I understand why some countries want to vaccinate their children and adolescents, but right now I urge them to reconsider and to instead donate vaccines to Covax.
"Because in low- and lower-middle-income countries, Covid-19 vaccine supply has not been enough to even immunise healthcare workers, and hospitals are being inundated with people that need lifesaving care urgently."
Read more: https://www.theguardian.com/world/2021/may/14/vaccinate-vulnerable-global-poor-before-rich-children-who-says
Posted by

OrbsCorbs
at 7:38 AM
No comments:

Friday, May 14, 2021
From
Racine County Eye
:
But don't toss out those masks just yet. Local state health officials still have the final say on whether or not to implement those guidelines.
Belinda Thielen | Racine | They wear their masks to protect the community and reserve respirators for health care workers. They wear them for all of us.
Officials with the Center for Disease Control revised their recommendation around mask wearing Thursday saying that if you've been fully vaccinated, you are protected from COVID-19.
The announcement represents a shift from two weeks ago when CDC guidelines exempted people who had been fully vaccinated from not having to wear masks unless in the case of mass gatherings.
But don't toss out those masks yet. The decision to implement the CDC recommendations would still need to be made at the local and county level.
The guidelines also contain exemptions for federal, state, local, tribal, or territorial laws, rules, and regulations, including local business and workplace guidance that are in place.
CDC Director Rochelle Walensky said the recommendation changed because the number of COVID-19 cases around the country have dropped over the past two weeks by one-third. She also pointed to increasing availability of vaccines and the loosening up of restrictions of who can get the vaccine.
"I would encourage counties and localities to look at how much vaccine they have, how many people have been vaccinated," she said "Look at how many cases are in their area and to make those decisions with that information in mind."
READ MORE: COVID-19 vaccine for 12 to 15-year-olds could happen soon
"So the science demonstrates that if you are fully vaccinated, you are protected," Walensky said.
Read more: https://racinecountyeye.com/cdc-face-mask-guidance/
From
JSOnline
:dmv
Last March when the COVID-19 pandemic caused Wisconsin to shut down, DMV administrators had a problem. How could they comply with COVID safety standards while avoiding a massive backlog of driving tests and license renewals?
Wisconsin's Department of Transportation responded by waiving the road test requirement starting May 11, 2020, for 16- and 17-year-olds to get their first probationary driver's license. Pending legislative approval, it would like to keep doing so.
Instead of passing a road test to get a license, the parents of 16- and 17-year-olds can sign a waiver, as long as the teenagers have had their instruction permit for a minimum of six months; have completed an approved driver training education course; and have completed 30 hours of supervised driving time with their parent or adult sponsor.
Read more: https://www.jsonline.com/story/life/wisconsin-family/2021/05/12/wisconsin-teenage-drivers-can-waive-road-test-get-drivers-licenses/4971592001/
Thursday, May 13, 2021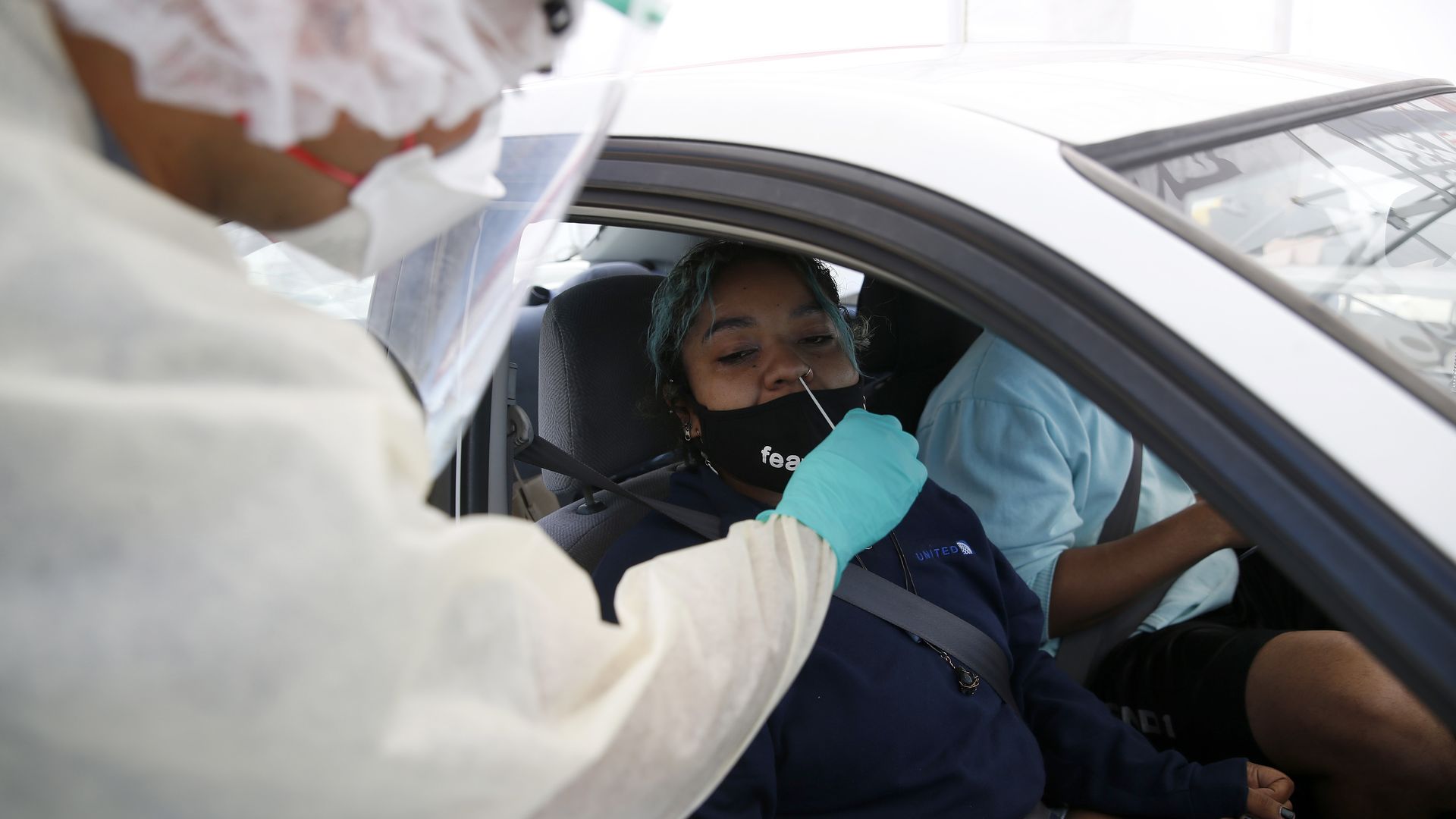 A health worker gives a COVID-19 test to a woman in Oakland, California. Photo: Jane Tyska/Bay Area News Group
The COVID-19 pandemic was a "preventable disaster" that exposed weak links "at every point" of the preparedness process, according to a World Health Organization-commissioned report published Wednesday.
Why it matters: The report by the Independent Panel for Pandemic Preparedness and Response criticized governments worldwide for being unprepared for the pandemic despite the prevalence of past "global health threats," such as Ebola, Zika, and SARS outbreaks.
The big picture: The report states that the world's response to the emergence of COVID-19 was "too slow" and "too meek," and that the WHO was "underpowered."
"Global political leadership was absent," it adds.

The report also says that February 2020 was a "lost month" when governments should have taken action to prevent the epidemic from developing into a pandemic.

"COVID-19 is the 21st century's Chernobyl moment—not because a disease outbreak is like a nuclear accident, but because it has shown so clearly the gravity of the threat to our health and well-being."
To end the ongoing pandemic, the panel recommends that...
Richer countries provide "at least 1 billion" vaccine doses to poor and middle-income nations;

The World Trade Organization and WHO get vaccine-producing countries "to agree to voluntary licensing and technology transfer for COVID-19 vaccines";

Nations scale up the access of COVID-19 tests and therapeutics.
From:
https://www.axios.com/report-covid-19-preventable-disaster-who-b1003f08-a9cb-4863-80a4-f05de6159ec5.html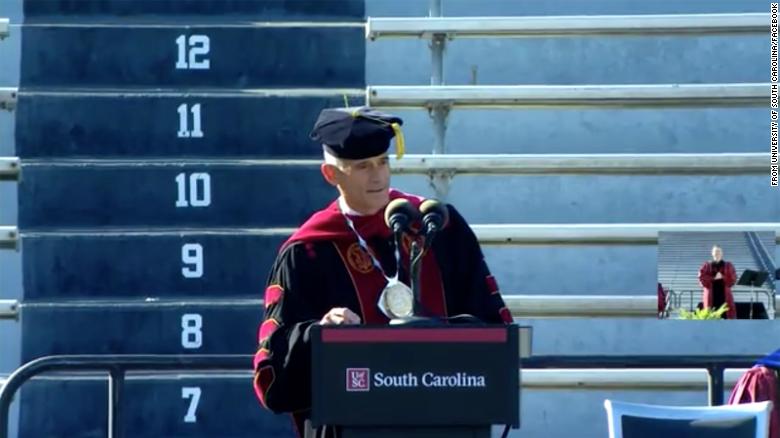 USC President Bob Caslen at the commencement ceremony on Friday.
(CNN)
The University of South Carolina accepted the resignation Wednesday of President Bob Caslen, who admitted he plagiarized part of a speech by the former head of US Special Operations Command during a weekend commencement speech.
"I was searching for words about resilience in adversity and when they were transcribed into the speech, I failed to ensure its attribution. I take full responsibility for this oversight," he wrote.
Caslen's advice to the class of 2021 echoed a famous speech by McCraven to the
graduates at University of Texas in 2014.
McCraven's commencement speech has been viewed over 13 million times on YouTube and years later is still an inspiration to viewers. McCraven, a retired four-star admiral, is a
former chancellor
at the University of Texas.
From
JSOnline
:
COVID-19 vaccinations for 12- to 15-year-olds will begin Thursday in Wisconsin after the plan received a key approval.
The Advisory Committee on Immunization Practices, an independent panel for the Centers for Disease Control and Prevention, said Wednesday that adolescents ages 12 to 15 should get the Pfizer COVID-19 vaccine.
The state Department of Health Services immediately updated its order:
"The Wisconsin Department of Health Services (DHS) announces that children 12-15 years old are now eligible to receive the Pfizer COVID-19 vaccine and vaccinations can begin starting Thursday, May 13. The Pfizer COVID-19 vaccine requires two doses for full protection and is the first and only vaccine available for this age group."
"This pandemic has been tough on everyone, but I know it has been especially hard for our kids," said Gov. Tony Evers.
Read more: https://www.jsonline.com/story/news/local/wisconsin/2021/05/12/covid-vaccine-12-15-year-olds-wisconsin-start-giving-pfizer/5059838001/
From
JSOnline
:
This cliffhanger has a happy ending.
A Caledonia house on the verge of falling off a crumbling bluff into Lake Michigan has sold after months on the market.
The new owner will likely demolish the house and reinforce the eroded cliff before building something new on the 11 acres of lakefront property.
The sale, in late April, hasn't stopped people on social media from reacting with surprise to the dramatic drone photos included with the listing. Posts about the home from the account "Zillow Gone Wild" have garnered attention in recent days.
"Let me just step ou- OHMYGOD," one commenter joked on Instagram.
The monthslong saga to sell the house at 7009 Novak Road was first reported by the Racine Journal Times.
The powerful winter storm in January 2020 that damaged South Shore Yacht Club also erased 30 to 50 feet of land from the owners' backyard and put the house in jeopardy, said real estate agent Jo Ann Vetter.
Read more: https://www.jsonline.com/story/news/2021/05/12/racine-house-hanging-over-cliff-gets-notice-zillow-gone-wild/5038075001/
From
Racine County Corruption
:
by
Brian O'Connor
A man accused of fatally shooting a 17-year-old at a house party at a residence on the 3000 block of Clairmont Street Friday told police he thought the victim was reaching for a weapon.
However, witnesses told police Joshua Daniel Jr., 18, shot the as-yet-unidentified victim without provocation, according to a criminal complaint filed Monday afternoon in Racine County circuit court.
Nine teenagers were present in the room where the shooting took place, and none reported seeing the victim – identified so far publicly only by the initials DMB – with a gun, authorities said.
Daniel was arrested a short time later at an address in the 1600-block of 6th Street after he ran from police down an alley.
Police first responded to the Clairmont address Friday evening for a report of gunshots and found the victim dying.
Three women present told police they had brought Daniels to the residence, and "as soon as they walked in the door, Daniels pulled a gun and shot DMB," the complaint reads.
As police were speaking with the women, Daniel continued to text them, authorities said. A resident at the address where Daniel was arrested told police he'd picked Daniel up. When police searched the car used to transport Daniel, they found a half-empty magazine for a .38-caliber pistol. Multiple .38-caliber casings were found at the scene of the shooting, according to police.
Read more: https://racinecountyeye.com/police-man-shot-teen-at-house-party/