From
RT
: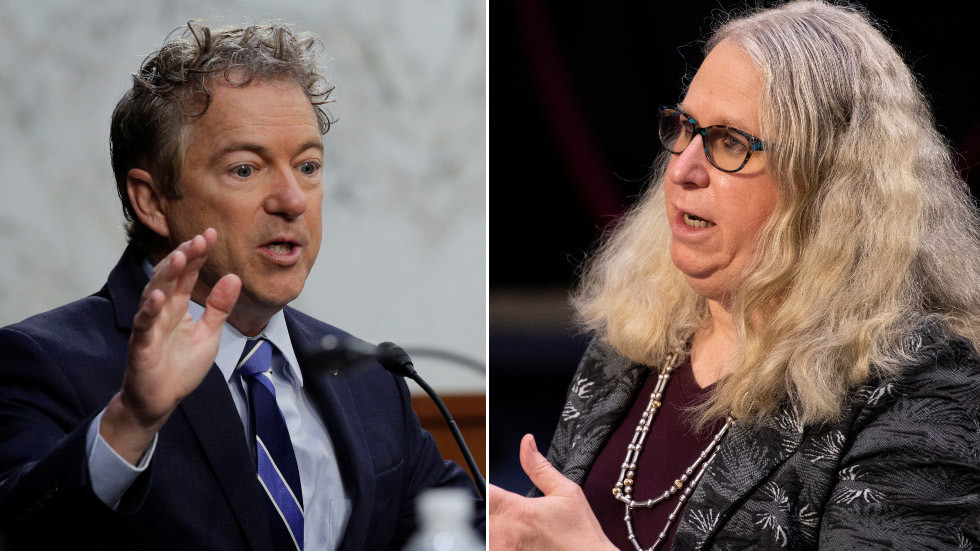 (L) Rand Paul © Reuters / Tom Brenner; (R) Rachel Levine © Reuters / Caroline Brehman
Rachel Levine, President Joe Biden's nominee for assistant health secretary, evaded questioning on her past support for child sex changes during her Senate confirmation hearing, a move that left GOP Senator Rand Paul "outraged."
Dr. Richard Levine had a long and successful career as a pediatrician before undergoing gender reassignment surgery in 2011 and taking the name Rachel. Since then, Rachel Levine has transitioned to politics, becoming Pennsylvania's health secretary in 2017, before being tapped by President Biden earlier this month to become the next US Assistant Secretary for Health, as well as the highest-ranked transgender person in the federal government.
Biden has repeatedly boasted about his diverse cabinet, which he said "looks like America." However, Levine's nomination hasn't been universally hailed. During her confirmation hearing on Thursday, Kentucky Senator Rand Paul (R) took her to task over her support for sex changes for transgender children.
After comparing transgender surgery to "genital mutilation," Paul asked Levine whether she believes "that minors are capable of making such a life-changing decision as changing one's sex?"
Levine dodged, telling Paul that "transgender medicine is a very complex and nuanced field," and that she'd be happy to talk the issue through with the Kentucky Republican – after being confirmed to the job.
Paul pressed on. "Do you support the government intervening to override the parents' consent to give a child puberty blockers, cross-sex hormones, and/or amputation of breasts and genitalia?" he asked, to which Levine gave the same response.
Levine has not publicly supported surgery for every child who believes that they are transgender. However, she has made social media posts supporting the provision of puberty blocking drugs to children, and during a 2017 speech at Franklin & Marshall College advocated cross-gender hormone treatment for 14-year-olds, and in some cases an "accelerated" path to surgery.
Citing statistics from the UK which showed three-year-olds receiving treatment in transgender clinics, Paul said "we should be outraged that someone is talking to a three-year-old about changing their sex!"
Read and see more: https://www.rt.com/usa/516599-rand-paul-rachel-levine/