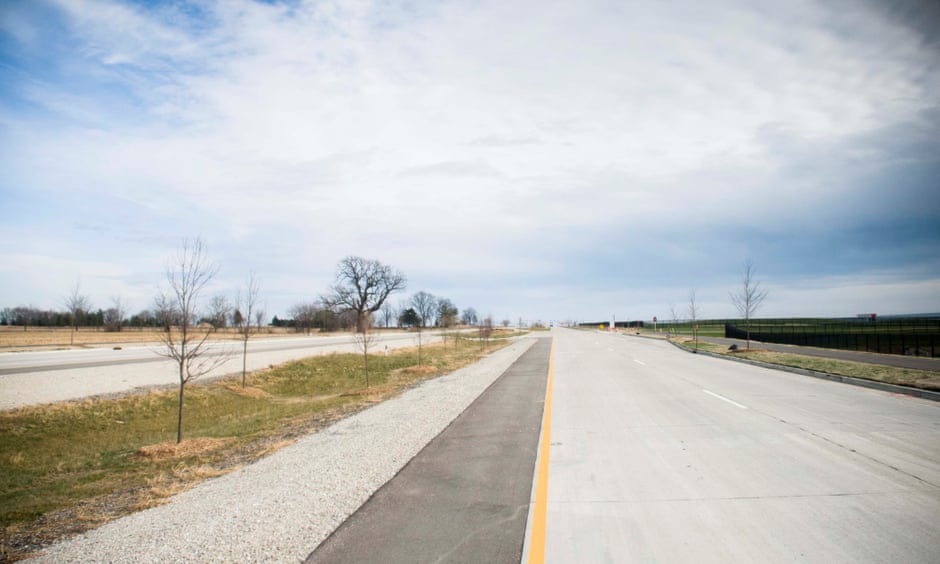 The roads were supposed to be for 13,000 workers but no one is here,' Sean McFarlane said. 'What is this sidewalk for? I don't understand it. It's the sidewalk to nowhere.'
Photograph: Courtesy writer

In Mount Pleasant, Wisconsin, families were forced out for a huge hi-tech plant – but three years later, it still hasn't been built
When Sean McFarlane recently returned to the site where his lifelong home was demolished, he found in its place a retention pond and hundreds of geese perched on a hill.
The quiet scene came as a shock. The Wisconsin village of Mount Pleasant had effectively forced him, his girlfriend and four children from their home in 2017 to make way for a proposed 20m sq ft hi-tech plant owned by the Taiwanese electronics giant Foxconn, a plant Donald Trump had said would soon be the "eighth wonder of the world".
To make way for this "wonder", village officials temporarily placed the McFarlanes in a dilapidated vacant house with no working toilets or heat, then allegedly failed to meet the promised relocation payment of $22,000.
Three years later, the factory for which the family went through hell hasn't been built. Sitting in his wheelchair on an empty sidewalk in November, McFarlane sighed in disbelief as he scanned the vast patchwork of mud, open fields, ponds and a few underutilized buildings comprising the 3,000-acre Foxconn site.
"They demolished my house for this? A bunch of geese that sit on a hill?" McFarlane, 37, asked. "It's upsetting. That's where my old house was, and now it's just nothing. You know? Nothing."
Read more: https://www.theguardian.com/us-news/2020/dec/08/wisconsin-foxconn-factory-residents-displaced